The Glock Family Feud: Founder's Ex-Wife and Kids Speak Out for the First Time
Together they made a fortune selling death machines, so why did Daddy abandon them?
Paul M. Barrett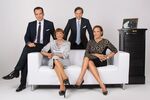 Helga Glock and her adult children are gathered in a private lounge of the elegant Hotel Palais Hansen Kempinski on a stately boulevard in central Vienna. Dressed in a tasteful gray suit and pearls, Helga, 78, has bright copper-red hair. She sits on an easy chair that's upholstered in white leather. Her daughter, Brigitte, and two sons, Gaston Jr. and Robert, perch knee-to-knee on an adjacent couch. China cappuccino cups clutter the coffee table between us. Speaking in German via a translator, and with a lawyer listening from a seat a few feet away, they're discussing how their lives changed in 2011. That's when Gaston Glock Sr. cut all ties with Helga and his sons and daughter.