Foreign Companies in China Feel Harassed by Investigations
The state alleges price fixing and threats to national security
By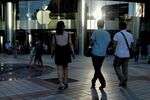 "China continues to welcome foreign investment, and the door will open even further," Premier Li Keqiang told foreign company executives on Sept. 10 at a World Economic Forum in Tianjin. "We are committed to taking our opening-up policy to a higher level," he said five days later in Beijing, at a second conference.
Why the reassuring words? A recent flood of regulatory actions and bad press about foreign businesses has those companies feeling unwelcome. In July a report on national television labeled the Apple iPhone a threat to national security because of its location-tracking app. Last month a dozen Japanese auto parts makers were fined a total of $202 million for price fixing. On Sept. 11, Beijing announced $46 million in fines on the local joint ventures of Volkswagen and Fiat Chrysler, also for pricing violations. Regulators have raided Microsoft's offices across China and are investigating the software giant, as well as cell phone chipmaker Qualcomm, for monopolistic behavior.
In a survey released on Sept. 2 by the American Chamber of Commerce in China, 60 percent of companies said the country has become a less welcoming place to do business, up from 41 percent at the end of 2013. Market access, licensing requirements, and intellectual-property rights were already concerns. The antimonopoly efforts have "added another level of complexity and drama to the situation," says Chairman Greg Gilligan.
Foreign investment in China in August was $7.2 billion, down 14 percent from the year before, according to the commerce ministry—the biggest decline in four years. "The companies that I work with are feeling like this is the most hostile time since China opened its doors" three decades ago, says James McGregor, chairman of Greater China for Apco Worldwide, a Washington-based lobbying firm.
On Sept. 11 the National Development and Reform Commission (NDRC), the Ministry of Commerce, and the State Administration for Industry and Commerce (SAIC), which all have authority to enforce China's 2008 antimonopoly law, held a rare news conference in Beijing to address foreign companies' concerns. "Our antitrust enforcement work is strictly conducted according to regulations," said Xu Kunlin, director general of the NDRC's Price Supervision Bureau. "It is fair and transparent. It is not targeting any market player and, of course, it is not targeting any foreign enterprises."
That's not how most companies see it. The U.S.-China Business Council, a Washington-based lobby, said in September that 86 percent of its member companies are concerned about the antitrust efforts. Companies were particularly troubled by unannounced on-site investigations, pressure to admit guilt, and an overall lack of transparency. U.S. Treasury Secretary Jacob Lew has sent a letter to his Chinese counterpart saying China is using antitrust law to force price cuts on companies, a move that could damage ties. "Companies are asking what sort of approach are [the Chinese] going to take—a socialist state-run model or a market- and consumer-oriented model," says John Frisbie, president of the council.
In industries such as infant formula—in which Mead Johnson, Danone, Abbott Laboratories, and other foreign companies were hit with $110 million in fines for price fixing last year—the antitrust actions could be part of a policy to shore up local brands, says Lester Ross, a lawyer at WilmerHale in Beijing. In autos and car parts, regulators want foreign companies to slash prices to benefit consumers, Ross says. "They need some scalps, and foreign companies are the most vulnerable."
President Xi Jinping's campaign against corruption has exposed widespread official malfeasance, so China's leaders must prove they are "not on the foreign companies' side, not on rich people's side," says Apco's McGregor. "Foreign investors are no longer special anymore. China has a substantial market, has its own powerful companies, and so now they are asking, 'What are you doing for us?' "
BOTTOM LINE -
The bottom line: With foreign companies feeling harassed in China, direct investment in August dropped 14 percent, to $7.2 billion.
Before it's here, it's on the Bloomberg Terminal.
LEARN MORE