With China Coal Ban, Has Australia's Luck Run Out?
By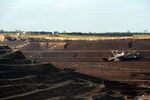 Australia missed the Great Recession. While economies in other developed countries swooned as Lehman Brothers went under, the Lucky Country kept expanding, thanks largely to the apparently endless appetite in China for Australian iron, coal, and other minerals. China is the country's top trading partner, accounting for 36 percent of Australian exports. In 2009, when the U.S. economy contracted nearly 3 percent, Australia grew 1.8 percent, and last year the Aussie economy expanded 2.4 percent.
When it comes to China, though, Australia's luck may be running out. After years of more than 8 percent growth, the Chinese economy is slowing dramatically. China's GDP growth last month fell to an annual rate of just 6.3 percent, according to data compiled by Bloomberg, and industrial output increased at the slowest pace in more than five years. That slowdown is hurting demand for Australian minerals. Consider iron ores and concentrates, which account for 26.5 percent of all exports: Prices for iron ore have dropped 35 percent this year, according to a report published today by Moody's Investor Service, driven down by overcapacity in China.
And now the Chinese government may be depressing demand for Australian minerals even further. Embarrassed by the worsening air pollution in Beijing and other cities, China is taking action to reduce the country's demand for coal from Australia and other foreign producers. Starting in January, China will ban the import of coal with high ash or sulfur content, according to a regulation that the National Development and Reform Commission posted on its website on Monday.
The government has also imposed 3 percent tariffs on imported coal and is telling utilities and other big consumers to cut their imports. Chinese demand for coal from abroad could fall as much as 15 percent this year, Winston Han, an analyst with the China Coal Transport and Distribution Association, told Bloomberg News.
The news comes at a particularly sensitive time for Australia's relations with China, following the brouhaha surrounding businessman-turned-politician Clive Palmer's televised rant against "Chinese mongrels" who "want to take over our ports and get our resources for free." Other Australian pols denounced him, and Palmer eventually apologized, but the nationalist-leaning Chinese newspaper Global Times warned that the incident was a sign of Australia's "unfriendly attitude" toward its biggest trading partner. Sure enough, the Chinese media is now talking about the decline of "dirty" coal from Down Under. Australia's 50 million tons of thermal coal exports to China could be at risk with the ban, the Xinhua news agency reported on Tuesday.
The new policies could hurt Australian miners, since China buys 25 percent of their coal exports, but some Australians are optimistic the ban won't turn out to be that harmful. For starters, the ash and sulfur limits are much less onerous than earlier draft proposals, according to a Sept. 16 report by Macquarie. While the Chinese are indeed going to impose the tighter standards for some of the biggest coal-consuming regions (including Beijing and Tianjin in the north, Shanghai and other cities in the center, and Guangzhou and the Pearl River Delta in the south), the good news, according to the Sydney-based bank, is that "the nationwide quality restrictions are not particularly restrictive."
Moreover, with a little bit of planning, Australian miners should be able to find ways around the restrictions, says Daniel Morgan, an analyst in Sydney with UBS. They could take high-ash coal and blend it with other coal. They could also reduce the ash content by washing the coal. "The amount of coal leaving Australia that you wouldn't be able to mitigate to meet the specifications would be low," he says.
Besides, there are alternatives to selling minerals to China. Demand for iron and coal is slumping, but Chinese who worry about the safety of the food supply domestically are ready to pay more for Australian beef and dairy products. That's why some Australian mining companies are diversifying into agriculture. The strategy: fewer rocks, more cows. And for those who still want to sell Mined-in-Australia minerals, there's another big market nearby: India. After enduring a nasty slide, the Indian economy is on the upswing again and by 2016 may outperform China's. India, says Morgan, "is the market that's going to grow the most."
Before it's here, it's on the Bloomberg Terminal.
LEARN MORE