China Rate Swaps Drop Most in Five Months as Repo Yield Lowered
Bloomberg News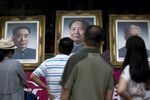 China's interest-rate swaps fell the most in five months as the central bank cut a rate it pays on repurchase agreements to the lowest level since January 2011.
The People's Bank of China sold 10 billion yuan ($1.6 billion) of 14-day contracts at 3.5 percent today, according to a statement on its website. That compared with 3.7 percent at a Sept. 16 auction and is a further sign of monetary easing after the central bank supplied 500 billion yuan to the nation's largest commercial lenders via its standing lending facility. Open-market operations added a net 8 billion yuan to the financial system this week, data compiled by Bloomberg show.
"The move aims at guiding risk-free rates lower," said Cao Yang, a Shanghai-based analyst at Shanghai Pudong Development Bank Co. "This is a strong price signal. It should help to lower institutions' short-term funding costs, and encourage companies to issue bonds."
The cost of one-year swaps, the fixed payment to receive the floating seven-day repurchase rate, fell 16 basis points to 3.34 percent as of 4:45 p.m. in Shanghai, data compiled by Bloomberg show. That was the biggest drop since April 17. The rate slid 29 basis points since Sept. 10 and reached 3.32 percent earlier, the lowest level since June 3.
The seven-day repo rate, a gauge of funding availability in the interbank market, was unchanged at 3.38 percent, a weighted average compiled by the National Interbank Funding Center shows. The 14-day repo rate climbed 11 basis points to 3.69 percent. A basis point is 0.01 percentage point.
Home Prices
"The PBOC is more convinced that it needs to make more effort to guide interest rates lower," Chang Jian, chief China economist at Barclays Plc in Hong Kong, wrote in a research note titled 'strong signal of a start of rate-cutting cycle.'
The central bank last lowered the rate for 14-day repos it auctions in July, when it resumed selling such contracts for the first time since April.
The PBOC's rate reduction today and cash injection to banks this week come as data point to a slowdown in China's economy. New-home prices fell in 68 of 70 cities tracked by authorities last month, according to data from the statistics bureau today. That was the most since January 2011 when the government changed the way it compiles the data.
"If interbank money rates can drop 50 basis points, the economy will find support," said Shi Lei, Beijing-based head of fixed-income research at Ping An Securities Co.
The yield on government bonds due June 2024 fell nine basis points today to 4.14 percent, data from the National Interbank Funding Center showed. That was the biggest drop since July 21.
— With assistance by Helen Sun
Before it's here, it's on the Bloomberg Terminal.
LEARN MORE