China Aims to Boost Small Enterprise Sector as Property Slumps
By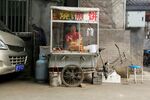 As the Chinese economy continues to slow, hit by falling property prices and a cooling manufacturing sector, China's leaders are doubling down on policies that support private business and particularly small and micro-enterprises. The hope is that stronger companies will create jobs and bolster flagging growth.
From Oct. 1 through the end of 2015, enterprises with less than 30,000 yuan ($4,885) in monthly revenue will no longer have to pay value-added or business tax, up from a 20,000 yuan revenue ceiling before, China's State Council announced on Thursday. Small and micro-firms are the "main force" of development, the "main channel" for job creation, and an "important source of innovation," said a statement released after the cabinet meeting, which was presided over by Premier Li Keqiang, reported the China Daily.
The move follows an April State Council announcement of a decision to halve the business tax on companies with annual income of less than 100,000 yuan, which will run until the end of 2016. Other recent reforms include simplifying administrative approvals or outright canceling them for 200 items, as well as making new business registration easier for small and large companies alike.
"This has lowered the threshold for starting businesses and removed restrictions on them, thus giving a great boost to business development in the whole country," said the 59-year-old Li in a speech (PDF) last week in Tianjin. So far this year, more than 8 million new businesses have been registered, the premier added.
As well as policies aimed at lowering the burden on new businesses, efforts will be made to provide more financing to small companies, the State Council announced. Subsidies and other incentives will be offered to banks that lend to smaller enterprises, and China will accelerate the creation of new banks that focus the bulk of their business on this sector.
"There are a large number of small and micro-businesses, and it's difficult for banks to verify their assets. It's more risky for banks to offer them loans than to large companies," Yang Yiyong, a researcher at the National Development and Reform Commission, told the China Daily. "But offering loans to these businesses is a social responsibility that the government is persuading banks to take on."
Still, welcoming new businesses won't work as long as powerful, well-connected state enterprises maintain their privileged position. "China will not reap the full benefit of policies encouraging startups until it deregulates markets to make it possible for these new firms to compete with and displace larger and state-owned firms. That means removing barriers to companies exiting the market, as well as to entering it," Andrew Batson, China research director at Gavekal Dragonomics, wrote in the China Economic Quarterly on Sept. 4.