Surprise Candidate Marina Silva Rattles Brazil's Presidential Race
Marina Silva vows to wipe out graft and lift the economy
By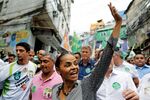 Until Aug. 13, Marina Silva was the vice presidential candidate in a long-shot campaign to win the Brazilian national election. Then tragedy intervened: Her running mate, the presidential candidate for the Socialist Party, Eduardo Campos, died in a plane crash. Silva succeeded him and, in the weeks since, has seen her poll numbers rival those of President Dilma Rousseff, who had been favored to win the Oct. 5 vote being contested by three major candidates and several minor ones. The two women are now expected to face each other in a runoff, and Silva stands a solid chance of beating the incumbent.
Silva, 56, rose from a poverty- and disease-stricken childhood, not learning to read and write until she was 16. She went on to organize native communities to confront logging interests in the Amazon, eventually becoming a senator and then environment minister in the government of Luiz Inácio Lula da Silva. She resigned from that post and Lula's Workers' Party in 2008 after butting heads with the party elite, including Rousseff, whom Lula picked as his successor.
Silva lost a presidential bid in 2010 on the Green Party ticket. After failing to register her own party by the election calendar deadline, she joined the Brazilian Socialist Party, which has become a centrist organization with market sympathies. The environmental activist has surrounded herself with names respected in business and promises to govern with a team, in contrast to the economic micromanaging of Rousseff, who depends on regulated prices to control inflation, and expanding social programs to appeal to families emerging from extreme poverty.
According to Silva's economic adviser, Eduardo Giannetti, increased capital will flow into Brazil from abroad under a market-friendly Silva administration. That in turn will allow the government to gradually end the currency interventions that have helped the real emerge as the only major Latin American currency to appreciate this year. The stronger real reduces the competitiveness of Brazil's exports. "This hurts Brazilian industry a lot," Giannetti says. Manufacturing contracted in the second quarter, contributing to the biggest decline in gross domestic product since 2009.
Silva, who says she will serve only one term, would reinstate a fuel tax and allow more fluctuation in the regulated prices of essentials such as gasoline. These moves would add 1.5 points to the 6.5 percent inflation rate, Giannetti acknowledges, but he says inflation will drop as industry becomes more efficient and government more fiscally responsible. Silva would shore up the budget by reducing the role of public banks in making subsidized loans to large corporations. Giannetti notes that the state-controlled bank BNDES's benchmark lending rate is 5 percent, compared with the central bank's 11 percent: "Monetary policy in Brazil is schizophrenic," he says. "The state banks increase credit, and the central bank attempts to contain credit." Silva wants a law granting the central bank complete independence.
Silva has chipped away at any middle class support for Rousseff, who became a target of massive anti-corruption protests in June 2013. Silva's risk, should she win, is that her political capital will be consumed by efforts to bend entrenched fiefdoms in Congress to her will. "Sticking rigorously to the moral high ground will give her a minority government, while abandoning it will frustrate much of her support base," says Rafael Cortez, an analyst with São Paulo-based consultant Tendências Consultores Integrada.
Rousseff says a Silva government could provoke instability. In a TV ad, her Workers' Party likens a possible Silva administration to those of Jânio Quadros and Fernando Collor. The first left office in 1961 after seven months, paving the way for military rule; the latter was impeached in 1992. "Dreaming is fine," the ad says, "but elections are a time to keep your feet on the ground and come back to reality."
— With assistance by Anna Edgerton
BOTTOM LINE -
The bottom line: If elected, Silva will have to keep her reformist credentials intact while building a working majority in Congress.
Before it's here, it's on the Bloomberg Terminal.
LEARN MORE