Bayer Plans Stock-Market Listing for Plastics Unit
Naomi Kresge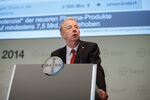 Bayer AG plans to list its plastics unit on the stock market, accelerating its retreat from the chemicals industry after 151 years to focus on more lucrative life-sciences businesses.
The supervisory board today unanimously approved the proposal by the management board, the Leverkusen, Germany-based company said in a statement. Bayer shares rose the most in almost three years. The stock has surged 18 percent, outperforming a benchmark of drug companies, since Bloomberg News reported in April that the company was reviewing options for Bayer Material Science.
The split will leave Bayer with units that make pharmaceuticals and crop chemicals and seeds. The company is one of Europe's last remaining drug and chemical conglomerates, along with Merck KGaA. Bayer may realize proceeds of 10 billion euros ($12.9 billion) from the divestiture, providing funds for acquisitions in health care, said Fabian Wenner, a Zurich-based analyst for Kepler Cheuvreux.
"They can basically now look to a target to buy with the proceeds," he said in a telephone interview. "They've always known they didn't need this business, but they haven't had a target to replace it with."
Bayer will continue targeted acquisitions to complement its life-sciences portfolio, Chief Executive Officer Marijn Dekkers said on a conference call with reporters today. It would consider takeover offers for the plastics unit, though the priority is a stock listing, he said.
Possible Deal
"We didn't take this step so we could quickly buy something again," Dekkers said. "Of course that doesn't mean that if there was the possibility for a deal we wouldn't take it."
Bayer will list the plastics business on the stock market in the next 12 to 18 months, the company said. The business will have a workforce of about 16,800 people, with 6,500 of them in Germany. Employment levels will remain stable over the next few years, Bayer said. The unit will have a new name and be based in Leverkusen.
Bayer is considering an initial public offering of the plastics unit, which would bring an infusion of cash, or a spinoff in which shares in the new business are distributed to Bayer investors. That option wouldn't provide cash to Bayer.
The company prefers an IPO and will decide based on market conditions which to pursue, Chief Financial Officer Werner Baumann said on today's conference call.
Share Performance
Bayer rose 6.2 percent, the biggest advance since November 2011, to close at a record 112.70 euros in Frankfurt.
The announcement caps years of speculation that Bayer would get rid of the unit. The plastics business is earning a return that's lower than the cost of the capital employed, while Bayer Health Care is thriving as the company won approval of new medicines such as the Xarelto blood thinner, the eye medicine Eylea and the Stivarga and Xofigo cancer treatments.
Bayer, which was founded in 1863 as a maker of dyes, exited large parts of its specialty chemicals portfolio a decade ago by spinning off its Lanxess AG subsidiary.
Bayer Material Science makes polymers found in houses, cars and businesses -- molded around appliances and cushioning sports goods, coating the hulls of boats and bodies of cars and stuffed into the walls of houses. The business had sales of 11.2 billion euros last year, down about 2.2 percent from the previous year.
Shining Growth
"The spinoff goes to the core of the old Bayer, but at the same time the growth of the pharma business will shine through," Kepler Cheuvreux's Wenner said.
Bayer considered options for the plastics unit as chemicals company Evonik Industries AG showed potential interest, Bloomberg News said in April, citing people with knowledge of the matter. Today's announcement may prompt renewed takeover interest from chemical companies seeking to buy the plastics unit, Wenner said.
Since Dekkers joined in 2010, Bayer has expanded in health care. The company agreed in May to buy Merck & Co.'s over-the-counter drug business for $14.2 billion, and Dekkers also has expressed interest in acquisitions in veterinary medicines.
Bayer may target Zoetis Inc., the U.S. animal-health company spun off from Pfizer Inc. last year, Andrew Baum, a London-based analyst for Citigroup, wrote in a report in April.
Before it's here, it's on the Bloomberg Terminal.
LEARN MORE