Jack Ma Said Planning Personal Roadshow to U.S. Elite
Leslie Picker and Jeffrey McCracken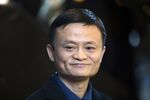 Jack Ma is wasting no time cozying up with the U.S.'s biggest power brokers -- from chief executive officers of some of the biggest companies to billionaire investors and a former president.
Starting with a private lunch today, after Alibaba Group Holding Ltd.'s trading debut in one of the largest initial public offerings ever, founder and Chairman Ma is slated to meet with more than 20 high-profile CEOs from General Electric Co. to BlackRock Inc. and the founder of KKR & Co. Later, he'll head to a reception at New York restaurant Cipriani with investors and members of the media, according to people with knowledge of the events. Next week, he'll attend the Clinton Global Initiative, to meet the political crowd.
Alibaba raised $21.8 billion in its IPO -- the largest by any company in the U.S. and potentially the biggest global offering on record if additional shares are sold to underwriters. For 50-year-old Ma, who has become China's richest person, the work has just begun. He has global ambitions for Alibaba and is making the rounds in New York over the next few days to receive the unofficial, though influential, seal of approval that comes from being in small meetings with people like GE Chairman and CEO Jeff Immelt, KKR co-founder Henry Kravis and former Citigroup Inc. CEO Sandy Weill.
Bob Christie, a spokesman for Alibaba, declined to comment on Ma's plans after the company's shares start trading.
Who's Who
Alibaba has been helped by a ruling Communist Party that deterred rivals and has had to overcome criticism of its corporate governance structure, which keeps insiders in control. For the company, influencing the influencers in the U.S. is crucial, said the people, who asked not to be identified because the information is private.
Hours after Alibaba's shares are expected to start trading, Ma will be at a lunch hosting a "Who's Who" of U.S. CEOs, academics and investors, people familiar with the plans said. Vice Chairman Joseph Tsai and Alibaba board member J. Michael Evans, a former Goldman Sachs Group Inc. vice chairman, will also attend, they said. Along with Immelt, Kravis and Weill, Twenty-First Century Fox Inc. Co-Chief Operating Officer James Murdoch and T. Rowe Price Group Inc. Chief Investment Officer Brian Rogers were invited, the people said.
Other attendees will include AOL Inc. CEO Tim Armstrong, BlackRock CEO Larry Fink and investor Ron Perelman, the people said. JPMorgan Chase & Co. CEO Jamie Dimon, who just completed throat cancer treatment, has been invited and is expected to stop by, said a person familiar with the matter. Corporate governance academics Jeff Sonnenfeld of Yale University and Bill George of Harvard University also will attend.
The lunch will be hosted by Michael Bloomberg, founder of Bloomberg LP, the parent of Bloomberg News.
Low-Key
This evening, Alibaba's management team will head to Cipriani, where they'll meet 500 people in the worlds of banking, investing, media and entertainment, said the people. Among the attendees will be Eric Mindich, CEO of Eton Park Capital Management LP.
JPMorgan Vice Chairman James Lee will introduce Ma to the crowd, the people said. Lee introduced Ma to investors last week in Boston during the Alibaba road show. He and Dimon also hosted Ma in March at a CEO conference where Warren Buffett was the guest speaker, one of the people said.
Ma has told advisers and people at the New York Stock Exchange, where the shares will be listed, that he wants the events to be low-key, one of the people said. Ma has indicated that he'll emphasize the importance of small business to Alibaba's prospects, the people said, and he wants entrepreneurs to see his site as welcoming.
Ma will end his whirlwind hobnobbing tour next week at the annual meeting of the Clinton Global Initiative, led by former U.S. President Bill Clinton. He is scheduled to speak in a session including General Motors Co. CEO Mary Barra on Sept. 23, the same day as President Barack Obama and Jim Yong Kim, president of the World Bank Group.
Before it's here, it's on the Bloomberg Terminal.
LEARN MORE