Richemont Sales Miss Estimates on Asian Slowdown
Corinne Gretler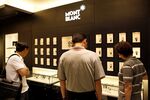 Cie. Financiere Richemont SA, the world's largest jewelry maker, posted the slowest start to a year since the global recession as consumers held back on buying luxury goods in Hong Kong, halting Asian growth.
Sales rose 4 percent excluding currency shifts in the five months through August, the Geneva-based owner of the Cartier and Montblanc brands said in a statement today. That's the weakest growth for those months since 2009. Analysts estimated a 6 percent gain, according to the median of 18 estimates in a Bloomberg News survey. The stock fell as much as 4.3 percent, the steepest intraday decline in more than a year.
Revenue slid in Hong Kong, Macau and mainland China, driving sales from the Asia-Pacific region to a standstill. That market was the source of 40 percent of Richemont's sales last year. Luxury-goods makers such as LVMH Moet Hennessy Louis Vuitton SA have been reporting weaker Asian consumption after the Chinese government's crackdown on bribery and extravagant spending.
"Prepare for a slow ride" into the end of the fiscal year, Luca Solca, an analyst at Exane BNP Paribas, wrote by e-mail. "The Richemont update is unlikely to spark new investor interest for the luxury sector."
Stock Declines
The stock traded 3.5 percent lower at 84.50 Swiss francs at 11:44 a.m. in Zurich. That gave the company a market value of 48.5 billion francs ($52 billion).
"We don't think it's a long-term slowdown" in Asia-Pacific, Co-Chief Executive Officer Bernard Fornas said today after a shareholder meeting. Chinese consumption will increase as the middle class expands and consumers travel more, he said. Tourists from that country are fueling the Australian market now, he said.
Sales in Richemont's own stores rose in mainland China, and the rate of decline in wholesale revenue decelerated, the company said. Cartier's watch business suffered from weak demand and destocking in Asia.
"Sales growth was subdued overall, with double-digit increases in the Middle East and Americas largely offset by low growth in Europe and decreases in Asia-Pacific and Japan," Richemont said. Revenue in Japan declined 8 percent, compared with the 3 percent drop analysts had predicted.
Japan raised its sales tax to 8 percent from 5 percent in April in the country's first increase in the levy since 1997. Japan's economy contracted by the most in more than five years in the second quarter after the move.
"The dual effect of sales-tax increase in Japan and Beijing's austerity drive has hit this luxury-goods maker," said Manish Singh, who helps oversee $2 billion as head of investments at Crossbridge Capital in London. He is invested in Richemont. "I would still hold Richemont and look to buy the dip."
Swatch Forecast
Swatch Group AG's sales growth may decelerate to 2 percent to 6 percent this year, Nick Hayek, chief executive officer of the maker of Omega and Longines Swiss watches, said in an interview published by Finanz & Wirtschaft yesterday.
Johann Rupert, the 64-year-old South African billionaire who is Richemont's controlling investor, regained his former post as chairman today in a shareholder vote after he took a yearlong sabbatical. The company reports five-month sales figures each year on the day of its annual meeting with shareholders.
Richemont has about 20 brands, including Vacheron Constantin, a 259-year-old Swiss watchmaker, and Giampiero Bodino, a Milan-based high-end jewelery label it added last year.
The luxury-goods industry is awaiting next year's arrival of the Apple Watch, a smart watch with messaging and fitness functions. Its introduction will challenge lower-end Swiss watch brands, analysts have said. Most of Richemont's timepieces are higher-end labels.
Consumers can own both smartwatches and traditional watches, Fornas said. When asked if Richemont might add such functions to any of its products, he said, "never say never."
Before it's here, it's on the Bloomberg Terminal.
LEARN MORE