Orange Workers Dodge Islamic State Forces to Keep Network Up
Amy Thomson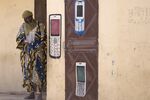 When one of Orange SA's mobile phone towers in Iraq runs out of fuel, workers have no more than 24 hours to get there before the emergency battery runs out. If that tower is in the middle of a battlefield, chances are that part of the network will go down.
"Depending on the country, we will have a guard, but generally when there is a risk, we don't take this risk," Orange's head of Africa and the Middle East Marc Rennard said in an interview in London yesterday.
About 100 sites out of 3,000 aren't working at any one time in Iraq because forces from the Islamic State, a militant Sunni Muslim group, have made it too dangerous to go near them, Rennard said. Orange owns about 20 percent of Iraqi phone company Korek Telecom as part of a joint venture.
Still, Paris-based Orange's African and Middle Eastern business is a source of growth for the company, which has been struggling with declining sales from weak economies and price wars in its European markets. Sales in the region grew 9 percent to 1.1 billion euros ($1.4 billion) last quarter. That compared to a 4.2 percent decline in France, its largest market. Individually, Mali's revenue jumped 36 percent while Guinea rose 57 percent in the second quarter.
The markets are growing fast as people adopt mobile phones and start using smartphones and wireless Internet access for the first time. Companies like Orange are also in a position to sell additional services such as mobile banking in Africa.
Jazztel Offer
Orange said it has reached an agreement with the Groupe Bank of Africa that will let customers send cash between their Orange Money accounts and traditional bank accounts. Orange Money has 11 million customers in 14 African countries, the company said.
In the last 10 years, Orange has spent at least $5.7 billion buying assets in Jordan, Kenya, Egypt and other parts of Africa and the Middle East, according to data compiled by Bloomberg. Still, turmoil in the region has made expansion more difficult. The company is prohibited from investing in Iran or Syria, two major markets, Rennard said.
Orange this week offered to acquire Spanish broadband provider Jazztel Plc for about 3.4 billion euros in cash, marking the French carrier's biggest takeover attempt in almost a decade.
Ebola Outbreak
Rennard said that militants and rebels in the countries he oversees have an interest in keeping mobile networks up and running. The infrastructure is also sometimes defended by locals, who want to keep phones working and communication lines open, he said.
"In most of the cases, our equipment is useful for everybody, and the population protects us because the local population needs to communicate," Rennard said.
The Ebola outbreak is also starting to become a concern, he said. While it's only in one of their countries for now, Guinea, fear of the disease spreading has led many countries to close their borders and could hurt the economy, Rennard said.
The company has been sending its employees educational videos about how to protect themselves from the disease, and so far, it hasn't affected their staff or operations.
"We do our best in terms of communication, protection, to secure our guys, but it's not 100 percent," Rennard said, setting out strategy for the region. "Up to now, it's OK."
Before it's here, it's on the Bloomberg Terminal.
LEARN MORE