OPEC Supply Risks Mount as Biggest Libyan Field Is Halted
Grant Smith and Maher Chmaytelli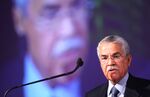 A reduction in OPEC crude output deepened as Libya's biggest producing oilfield stopped pumping amid supply cuts from Saudi Arabia and potential disruptions to Nigerian exports.
Libya halted the Sharara oilfield as a precaution after a rocket attack on the connected Zawiya refinery three days ago, closing down about 30 percent of national output. In Africa's largest oil producer, state-owned Nigerian National Petroleum Corp. was in talks yesterday to prevent a strike that threatened to disrupt exports. Saudi Arabia told the Organization of Petroleum Exporting Countries that in August it made the deepest production cut in 18 months.
Brent crude futures declined 14 percent in the past three months, falling to a two-year low of $96.21 a barrel on Sept. 15. Global oil demand growth is the slowest since 2011, while the U.S. shale boom means oil production outside OPEC is rising by the most since the 1980s, according to the International Energy Agency. Brent rebounded to $99.05 a barrel on Sept. 16 after OPEC Secretary-General Abdalla El-Badri said the group may need to reduce output next year, and traded at $98.42 at 8:41 a.m. on the ICE Futures Europe exchange in London.
"Libya, Nigeria show us to be cautious," Miswin Mahesh, an analyst at Barclays Plc, said by phone from London yesterday. "The Saudi cuts in August helped to balance the market slightly. We're not out of the woods yet, but it is certainly a beginning."
Stalled Recovery
Libya's output had recovered after rebels lifted a yearlong blockade of eastern oil ports in July, which had diminished the North African nation to the rank of OPEC's smallest member. Production rose to 870,000 barrels a day on Sept. 14, according to National Oil Corp. spokesman Mohamed Elharari. Still, Islamist militias have expanded their influence after seizing Tripoli, the capital, last month and the country's government has had to relocate to the eastern city of al-Bayda.
A rocket exploded near a crude storage tank at the Zawiya plant on Sept. 15, Elharari said the following day. Sharara, which was producing about 250,000 barrels a day of oil, was shut on Sept. 16 after the discovery of damage to the storage tank, Mansur Abdallah, director of oil movement at the Zawiya plant, said by phone yesterday.
"Supply from Libya could quickly be restored if the situation improves, but it highlights the fragility of the country's output recovery and raises questions over its sustainability," said Julian Lee, an oil strategist at Bloomberg First Word in London. "The oil supply-demand balance will remain at the mercy of fighting between militias in Libya until the government is able to exert authority over them, and that still seems a long way off."
Saudi Outlook
Saudi Arabia's output reduction in August was the largest it has reported to OPEC since December 2012, the group's data shows. The kingdom will need to make another cut of similar size to sustain prices above $100 a barrel, BNP Paribas SA, Citigroup Inc. and Societe Generale SA estimate.
"The most important recent change in OPEC supply is Saudi Arabia's production cut, both because it is the largest single reduction and also because it was intentional, whereas others are consequences of unplanned external factors," Bloomberg's Lee said.
In Nigeria, workers operating flow stations that pump crude to export terminals and at NNPC's 23 gasoline depots joined strike action, according to Babatunde Oke, a Lagos-based spokesman for both a managers' union and a blue-collar workers' union.
"We're optimistic that the terminals won't be affected," Ohi Alegbe, a spokesman for NNPC, said by phone from Abuja yesterday, adding he expected a solution to the labor dispute by the end of the day. The strike began Sept. 16 over pensions.
Nigeria, Africa's biggest oil producer, pumped 2.3 million barrels of oil a day in August, data compiled by Bloomberg show.
Before it's here, it's on the Bloomberg Terminal.
LEARN MORE