Nike Sticks With Peterson Amid Child-Abuse Allegations
Matt Townsend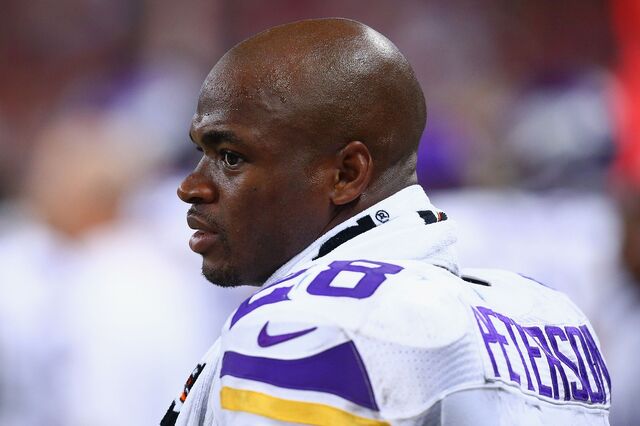 Nike Inc., which has an endorsement contract with Adrian Peterson, said it was sticking with the athlete this morning, just before he was barred from his football team because of child-abuse allegations.
"Adrian Peterson remains a Nike athlete," spokesman KeJuan Wilkins said in a statement e-mailed early today. "We are aware of the concerning allegations surrounding Adrian. We will continue to closely monitor the situation."
The Minnesota Vikings placed Peterson on a National Football League exempt list requiring the 29-year-old star running back to stay away from all team activities until legal proceedings in his child-abuse case are resolved. The move, also announced today, reversed a decision to let him play this week following pressure from fans, sponsors and Minnesota Governor Mark Dayton.
Nike, the world's largest sporting-goods maker, also said merchandise tied to Peterson continues to be available for sale at its stores. The Associated Press said his gear had been pulled from Nike stores around Minneapolis. Nike, based in Beaverton, Oregon, didn't address this in its statement and Wilkins hasn't responded to additional requests for comment on that report or Peterson being barred.
Ray Rice
Nike's decision on Peterson contrasts with how the company handled its relationship with Baltimore Ravens running back Ray Rice. Nike terminated an endorsement deal with Rice on Sept. 9, a day after the Ravens cut him from the team following the release online of a video showing him punching his then-fiancee unconscious.
Pictures showing the aftermath of Peterson's alleged abuse of his 4-year-old son have appeared on the Internet as well.
Peterson, often mentioned as the best running back in the NFL, is considered a bigger star than Rice. The Vikings player was named Most Valuable Player for the NFL's 2012 season when he became just the seventh player to rush for more than 2,000 yards in a season.
Nike has a history of maintaining relationships with star athletes despite brushes with law enforcement and other sponsors severing ties. The most famous cases include standing by basketball player Kobe Bryant and golfer Tiger Woods following much-publicized reports of infidelity.
Lance Armstrong
The company has said the use of performance-enhancing drugs are a reason to sever ties. Nike terminated a deal with seven-time Tour de France winner Lance Armstrong in the wake of his admission to using PEDs. Last year it released Ryan Braun, a former National League MVP, after he was suspended by Major League Baseball for drug violations.
The Vikings had deactivated Peterson for last week's NFL game after he was indicted Sept. 12 on a charge of hitting his 4-year-old son with a branch. Two days ago, the team reinstated Peterson and said they expected him to play in this week's game against the New Orleans Saints. The team backtracked today, announcing the decision to bar the player.
Peterson used a switch -- a thin branch or stick used for corporal punishment -- to discipline his son, defense lawyer Rusty Hardin said Sept. 12. Peterson, who faces up to two years in prison if convicted of the charge, apologized in a statement for hurting his son and said he's not a child abuser.
Before it's here, it's on the Bloomberg Terminal.
LEARN MORE