New Zealand Economy Grows Fastest in 10 Years as Election Looms
Tracy Withers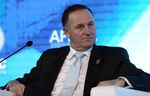 New Zealand's economy grew at the fastest pace in 10 years in the second quarter, outperforming most major developed markets as the country prepares to hold an election this weekend.
Gross domestic product increased 3.9 percent from a year earlier, the strongest growth since the second quarter of 2004, Statistics New Zealand said in Wellington today. That beat the 3.8 percent median forecast in a Bloomberg News survey of 10 economists. GDP rose 0.7 percent from the first quarter.
Prime Minister John Key is seeking a third term at an election on Sept. 20, pledging sound economic management, budget surpluses and modest tax cuts in 2017. The main opposition Labour Party says the nation faces slowing growth as falling global dairy prices and an over-valued currency curb farm incomes and exports.
"Unlike the rest of the world you've got very strong domestic demand," said Annette Beacher, head of Asia-Pacific research at TD Securities in Singapore. "You've got business investment, you've got consumption then housing. That's a set of numbers the rest of the world dreams of."
New Zealand's dollar rose to 81.11 U.S. cents at 2:11 p.m. in Wellington from 80.82 cents before the report.
Annual growth accelerated from 3.8 percent in the 12 months through March, buoyed by construction, farm output and consumption. While quarterly growth was the slowest in a year after gaining at least 1 percent in the three preceding quarters, it beat economists' forecasts, which had centered on 0.6 percent.
RBNZ Pause
The pace of quarterly growth is slowing after the central bank raised the official cash rate four times from March to July, and as global dairy prices slump.
Reserve Bank of New Zealand Governor Graeme Wheeler signaled last week he will delay further increases in borrowing costs until next year to assess how his policy tightening is affecting the economy. The central bank forecast 0.8 percent growth in the quarter. It sees annual growth slowing to 3.2 percent by March next year.
The RBNZ published forecasts for the 90-day bank bill yield suggesting the benchmark rate, currently at 3.5 percent, won't rise again until the first or second quarter of 2015. Nine of 12 economists surveyed by Bloomberg forecast Wheeler will keep the rate unchanged until March. Three see no change until the second quarter.
Growth has been underpinned by surging exports to China, the NZ$40 billion ($35 billion) rebuild of earthquake-damaged Christchurch and the strongest immigration in 11 years.
Key, who has led the country since 2008, is forecasting the first budget surplus in seven years in the 12 months through June 2015. A re-elected government may have as much as NZ$1.5 billion available for "modest" tax reductions for low and middle income earners in 2017, provided the budget remains in surplus and debt is under control, he said Sept. 8.
Key's National Party had 46.5 percent support in a Roy Morgan poll published yesterday, making it favorite to return to power. The main opposition Labour Party had 24 percent backing and its ally the Green Party 13.5 percent.
Before it's here, it's on the Bloomberg Terminal.
LEARN MORE