pursuits
Clear Channel Looks for Digital Love With a New Name: IHeartMedia
By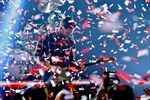 Clear Channel is, at best, a 20th century brand name. It speaks to strong, static-free signals—an anachronism in a digital world.
That's one of the reasons the Texas-based radio giant just formally changed its name to IHeartMedia, a modernized moniker with a different problem: It's awkward to say and write. One can almost imagine the boardroom brainstorm: "Well, Apple is hip, and they do that thing with the 'i' out front."
Make no mistake, Clear Channel could use some 21st century cred. The largest radio station owner in the U.S. was taken private in 2008, and its core business remains under siege from satellite feeds, Spotify, podcasts, Candy Crush, Instagram, and every other form of digital diversion likely to be found in your pocket. Last year the company posted a $607 million loss on $6.2 billion in sales.
Clear Channel has been putting all of its stuff on the Internet for years. The iHeartRadio app, from which the company adopted its new name, has been a digital outlet for its roughly 860 separate radio stations since 2008. For three years, the company has produced a bundle of concerts and a complementary music festival, which kicks off for a fourth time this Friday.
Here's how IHeartMedia Chief Executive Officer Robert Pittman explained the new moniker to the New York Times:
"To capture all these concepts and still call it the legacy name really is a disservice to what we are and what people here have built. So we've taken our biggest national brand, our newest brand, our most digital brand, and made that the name of the company."
Clear Channel, meanwhile, doesn't trigger great associations for a lot of listeners. As the company pieced together its empire of radio towers over the years, it was roundly criticized for changing favorite stations and blanketing the country's idiosyncratic bandwidth with a uniform set of song and programming choices. People don't gripe too much about their local disc jockeys these days. They're too busy listening to Howard Stern and NPR podcasts.
Before it's here, it's on the Bloomberg Terminal.
LEARN MORE