Guess What's Going on in Puerto Rico; You Have To: Opening Line
C. Thompson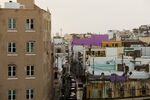 Catching up on leftover business after a week off, we're going back to the story of Puerto Rico's municipal debt, which has now entered what we here at Bloomberg would call NI HUSH territory.
The stories under HUSH look different now. Fifteen years ago it was a topic code we used for stories we wrote when companies convened private meetings or conference calls with analysts and wouldn't let us or the public attend or listen. Those stories helped lead to Regulation FD, for Fair Disclosure, the SEC rule that now prohibits such private meetings, which were executed by and for a closed community that gained an unfair advantage through information not available to the general public.
Maybe we should change the topic code to NI PREPA.
Because as the Puerto Rico Electric Power Authority attempts to get a handle on its $8.3 billion in junk-rated municipal bonds, it has created what is essentially an upper class of bondholders who hold more than 60 percent of the debt and who are now part of a nondisclosure agreement with the borrower.
This chunk of lenders has special access to the borrower. They can't tell the outside world what they know, and they can only trade Prepa's bonds within their circle.
As Michelle Kaske reported late last Friday, it's not an unusual arrangement. What makes it unusual, as she reports and as Cumberland Advisors' David Kotok told us by phone, is how much of the debt and how many of its holders are part of the club, which was formed in August.
"I don't recall a situation where a group acting in concert under an NDA has a majority holding of the debt issue," says Kotok, founder, chairman and chief investment officer of Cumberland.
How long have you been in this market?
"Almost half a century," he says, declining to disclose the amount of his firm's holdings.
Were you ever given the opportunity to become a member of the NDA group?
"No. No one invited me, and I didn't seek it."
Prices on the 5 percent bonds due 2042 have been rising since the end of June, after the island's lawmakers approved a law that allowed public companies, as well as Prepa, to restructure debt and seek losses from bondholders.
As Lord Abbett & Co.'s Daniel Solender told Kaske last week, access to extra information on Prepa's finances gives investors insight into other Puerto Rico creditworthiness. Which might help explain why the island's 6.5 percent sales-tax revenue bonds due 2044 also are rising.
Why? If you're not an NDA holder, you're left asking this question.
"Did they rise because speculators said, 'Well, adding this construction improves the possibility of a work-out'?," Kotok wonders. "Did they rise because liquidity in the market has been removed, because half these bonds or 60 percent of these bonds are now held by a group that cannot trade them publicly? When they trade with each other, are they doing so in a private market which they've shared with each other under a nondisclosure agreement? What about the folks who don't know? There's a lot of questions."
Sure are.
Bloomberg's Joe Mysak, who's been covering munis since 1981, sees Puerto Rico's debt sort of flying under the radar, although how $73 billion can escape scrutiny is another question.
The island's debt "is in the market, but it's not of the market," Mysak tells us. "When you think of Puerto Rico, I would say your average retail investor does not think Puerto Rico is really part of the municipal market."
He wonders how the debt got this big, and points to enabling by Wall Street, as well as the U.S. government. He puts the per-capita debt load at about $18,000, compared with about $5,000 in the U.S.
The U.S. government "has a role to play in all of this, and you would think it would try to keep a lid on the situation," Mysak says. "What are the foreign holders of U.S. bonds supposed to do when they say, 'Hey, wait a minute, this commonwealth is yours. What's going on here?"
They probably know as much as Kotok.
***
It's FOMC day, with the statement and forecasts for growth, employment and inflation coming at 2 p.m., followed by Yellen's press conference. For a preview of what to look for, click here.
Regular U.S. economic indicators include the CPI and current account balance at 8:30 a.m. EDT and the NAHB homebuilder sentiment index at 10 a.m.
General Mills, Lennar and FedEx are scheduled to report earnings before the market, and Pier 1 Imports will report after the close. Chiquita Brands holds a special shareholder meeting on its plan to merge/invert with Fyffes.
A short time ago, the EU said euro-area inflation was higher than forecast in August at 0.4 percent, unchanged from July. The U.K. said unemployment fell to the lowest level in six years. The BOE released minutes of the Sept. 3-4 Monetary Policy Committee meeting, showing policy makers were divided for a second month while ultimately keeping the key bank rate at 0.5 percent.
***
- Joint Chiefs chairman says he'd seek U.S. troops to fight the I.S. on the ground in Iraq if he had to. - Kerry testifies before Senate Foreign Relations Committee on the Islamic State at 2:30 p.m. EDT. - The House Select Committee on Benghazi debuts with its first open hearings at 10 a.m. - The missing IRS e-mails are the topic of a House Oversight subcommittee hearing at 2 p.m. - Homeland Security Secretary Jeh Johnson and FBI Director James Comey testify before the House Homeland Security Committee at 10 a.m. - VA Secretary Robert McDonald and acting inspector general Richard Griffin address the House Veterans Affairs Committee at noon on the final report on scheduling problems in Phoenix. - Xi arrives in India to meet with Modi. - Credit Suisse gets reprimand from Fed over risky business, WSJ reports. - China greases the skids with $81 billion injected into nation's largest banks. - Allergan's special meeting on Valeant/Pershing's slate of directors is set for Dec. 18, pending court approval. - The CFTC meets to discuss collateral requirements for uncleared swaps. - Jeff Bezos makes an announcement at the National Press Club in Washington together with space company United Launch Alliance. Time TBA. - SpaceX wins share of $6.8 billion NASA manned-rocket contract with Boeing. - Malaysian technology industry hit by report alleging almost a third of migrant employees working in forced-labor conditions. - Local Missouri police department's use of force under review by FBI. No, not Ferguson. - Meanwhile, in Ferguson, grand jury deadline on finding cause for charges against the cop who shot Michael Brown is extended to Jan. 7. - Undated photos purport to show daughter of Uzbekistan's president under house arrest. - Rouhani's liberalizations in Iran don't include women watching sports with men. - Judge hearing child labor suit involving fundamentalist church invokes Hobby Lobby decision in a way that might interest journalists. - Blacks, Hispanics have doubts about media accuracy, joining everyone else out there. - Discovery Channel to air live broadcast of potential suicide in Chicago. - Singapore choked with smoke from Indonesia. - Watch video of CNN broadcast being blacked out in China while it's being aired. - Tens of thousands under evacuation order in Philippines, where Mount Mayon volcano is about to blow. - Minnesota Vikings reverse course, suspend Adrian Peterson pending outcome of legal proceedings surrounding allegations of child abuse. - Welsh mother unwittingly buys Mattel's new "Real Housewives of Camden" Barbie.
***
Bloomberg's John Hechinger has done some reporting on individual retirement accounts this past summer (it's not over yet), exploring the benefits and detriments to converting 401(k) plans into IRAs.
Mostly the news is about the detriments.
But there is a class of person that can take an IRA and make it cry tears of money, and that person is represented by the man who lost the election for president in 2012.
Margaret Collins and Richard Rubin take up yesterday's GAO report, which found that about 9,000 U.S. taxpayers have IRAs with at least $5 million in them. They use the Mitt Romney road map to explain to the rest of us how it can be done, offering five paths that anyone can take to getting rich on IRAs.
The first step is to take a few million dollars from your bank account and put the money it in an IRA.
So, sorry -- six steps, then.
If you want to learn the other five, click here.
***
The Senate Armed Services Committee is expected to release a declassified report today on its yearlong investigation into hacking at U.S. defense contractors.
Kim Chipman and the folks at Bloomberg First Word give us a little bit of advance information from the committee's statement yesterday on who's responsible.
Spoiler alert: It was China. All hacking from foreign entities came from China, including a "significant number of intrusions" into networks of contractors for the U.S. Transportation Command, Chipman writes.
Given that USTRANSCOM has a Facebook page, we're not surprised they're wrestling with hackers. Really guys, a Facebook page? Is there a party you're afraid of missing?
Anyway, Chairman Carl Levin, the Michigan Democrat, and ranking Republican James Inhofe of Oklahoma, will convene the panel, which will tell the nation and the rest of Congress that their defense contractors are being hacked a lot. Then everyone will go back to whatever it was they were doing, because private industry doesn't want Congress to tell them how to run their businesses, even if it means a threat to national security.
If there's one thing we can be sure of, Corporate America will look this problem square in the eye, then look at its bottom line, and then sort of look skyward with a whistle and shuffle of its feet before going back to figuring out how to move more companies to some rock in the middle of some body of water.
If you think that's too cynical, here's analysis by BGOV analyst Sanford Reback on how companies are missing the opportunity to help shape cybersecurity legislation or regulations away from Congress -- notably the executive branch. Along the way Reback's analysis alludes to a dim future for official, meaty legislation on Capitol Hill, and when the administration does try to save private industry from itself -- as well as all us, who are a few weeks away from cranking up the Christmas machine -- the companies will scream like stuck pigs.
Target, Home Depot, retailer after retailer, JPMorgan Chase, U.S. defense contractors -- you know this is going to get real, right?
***
School curricula in Texas is back in the news. The state Board of Education held an "hours-long, often tense" public hearing yesterday on its proposal to emphasize the influence of Christian values on America's Founding Fathers, the AP reports.
Also being proposed is language in social studies books that would introduce what critics says is misleading information about the debate over climate change and give prominence to assertions by conservative think tank Heartland Institute over the findings of scientists contributing to the United Nations' Intergovernmental Panel of Climate Change, according to the Guardian.
At the same time, also according to the Guardian, the Center for Public Integrity obtained documents revealing how the Charles Koch Foundation demanded a role in faculty appointments at U.S. universities where the foundation was considering awarding grants.
Our Zaid Sabah and Khalid Al-Ansary wrote a similar story yesterday about a fringe group attempting to exert its influence over education.
Any textbooks being used in schools now situated in the region the I.S. has declared its caliphate must scrub references to Iraq or Syria and insert "Islamic State." Teachers are being marched to their jobs by threats.
Also, subjects like history, literature, geography and, we assume, science, are being replaced with, in no particular order, religion, religion, religion and, we assume religion.
So let's just call Texas what it is. A caliphate. And let's call the Kochs what they are: [COMPLIANCE ALERT]
Before it's here, it's on the Bloomberg Terminal.
LEARN MORE