Would You Pay $10 a Day to Feed Your Dog?
By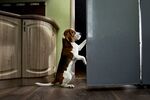 Fresh and local plays well on Portlandia and increasingly in pet-food aisles. But how many people are willing to a three- to 10-fold premium on precious, perishable chow for their furry family members?
That's the big question facing Freshpet, which has filed for an IPO. The business case, according to the company's prospectus, is simple: People are increasingly treating their dogs and cats like children. "We position our brand to benefit from mainstream trends of growing pet humanization," the filing reads.
Indeed, there is no shortage of healthy pet chow out there. According to the Census, there are about 230 different companies making dog and cat food in the U.S. these days and a lot of them are focused on the kale crowd. Even Newman's Own is selling organic kibble. But Freshpet is one of the first to try to really scale up refrigerated chow. All of its products, including bags of kibble and "slice and serve" meat rolls that look like tubes of breakfast sausage, need to be kept cold.
There aren't a lot of refrigerators in the pet-food aisle, so Freshpet is giving stores its own proprietary coolers stocked with its products. It's a kind of strategic masterstroke that builds the brand while ensuring prominent shelf space—the key to any grocery play. How better to point out that even the high-end organic stuff has still been engineered to keep until Armageddon?
Some 10 years after launching, the company has fridges in almost 1,600 Walmarts, 1,200 Targets, and about 200 Whole Foods stores. Freshpet says U.S. consumers can support 35,000 retail locations—almost three times its current amount—before the market is stuffed.
Feeling great about feeding Fido, however, isn't cheap. FreshPet says Woodrow, my 70-pound Labrador retriever, should get 1.25 to 1.66 pounds a day of its turkey meat tube. That would run $6.88 to $9.17 per day if I bought the stuff at this web site, though Freshpet noted that tab can come down by a fair amount if the product is bought in bulkier packages from discount stores. Either way, it seems like a lot for a dog that eagerly eats sticks and cardboard and currently chomps about $1 worth of kibble a day.

Running Freshpet isn't cheap either. The refrigerators take about 15 months to pay for themselves, according to the Securities and Exchange Commission filing. And stocking a supply chain of perishable meat is far trickier than peddling product that can sit around in a warehouse indefinitely.
Do U.S. customers love their pets enough to take Freshpet to the scale of a Purina or even a Blue Buffalo, an all-natural shop that is now selling about $1 billion of pet food a year? Possibly, but it will have to do more than simply stock more fridges around the country.
Consider this: In the second quarter of this year, Freshpet booked an impressive $20.4 million in sales from an equally impressive 12,600 fridges. But that breaks down to only about $18 of revenue per fridge per day—less than the cost of two turkey rolls. That's more than enough for Woodrow, but IPO investors may be a hungrier lot.
Before it's here, it's on the Bloomberg Terminal.
LEARN MORE