Forced Labor in Tech: It's Not a Bug, It's a Feature
By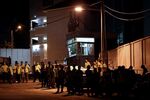 They didn't name any company names, but researchers behind a new study paid for by the U.S. Department of Labor conclude that widespread forced labor is embedded in a major manufacturing hub for the global electronics industry: the tech factories of Malaysia. And because many of the most recognizable brands in the world "source components of their products from Malaysia, this means that virtually every device on the market today may have come in contact with modern-day slavery," the study's authors said.
The findings could prove troublesome for consumer electronics companies, aerospace and defense contractors, and even medical-device makers if Washington adopts and enforces long-awaited standards aimed at eliminating indentured servitude from the U.S. government's own supply chain. Uncle Sam is the largest purchaser of goods and services in the world.
Today's report, "Forced Labor in the Production of Electronic Goods in Malaysia: A Comprehensive Study of Scope and Characteristics" was published by Verité, an Amherst, (Mass.) group that audits labor conditions globally for Apple and other companies. It concludes that almost one in three foreign migrants in Malaysia's electronics factories meets even a conservative definition of forced labor, based on international criteria. The country relies on millions of migrant workers, recruited and imported from the poorest corners of Asia, to do low-skill jobs, including in its ubiquitous electronics plants. Electronics accounted for $72.3 billion in Malaysian exports in 2012, which is about one-third of all exports. Verité interviewed 501 electronics workers in Malaysia.
The group's findings echo those of an investigation last year by Bloomberg Businessweek of Apple's supply chain and by Bloomberg News of conditions in the wider electronics industry. Those stories were built on interviews with more than 100 current and former Malaysian electronics workers from 22 different companies. Verité and Bloomberg both documented the routine and widespread seizure of workers passports; the need for the vast majority of foreign workers to buy their jobs through excessive "fees" charged by job brokers operating across international boundaries; and huge debts for workers' families from paying those fees that often leave migrants trapped on factory floors.
"Unscrupulous behavior on the part of employers or third-party employment agents can exacerbate vulnerability to exploitation," Verité's report says, "but the system in which foreign workers are recruited, placed, and managed is complex enough to create vulnerability even in the absence of willful intent to exploit."
Since early this year, federal procurement regulators have been pondering final rules for government contractors stemming from an executive order President Barack Obama signed in 2012, called "Strengthening Protections Against Trafficking In Persons In Federal Contracts." The President's dictate is unequivocal on one key point: If a company wants to keep the government as a customer, it must stop hiring overseas workers who had to buy their jobs.
In light of today's report, paid for by the federal government itself, it could be tough for technology companies to keep arguing that such problems in Malaysia are just a bug and not a feature.
Before it's here, it's on the Bloomberg Terminal.
LEARN MORE