China's Xi Jinping Calls for Building a 'Maritime Silk Road'
Christina Larson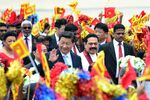 China's leaders have a penchant for describing future ambitions by using metaphors from the past. One case in point: Xi Jinping's recent exhortations to build a "maritime silk road," a phrase he first deployed in October on a state visit to Indonesia, while speaking of the "shared destiny" of China and Southeast Asia.
Xi aims to boost both trade and maritime cooperation, as well as shore up support for China's controversial territorial claims in the South China Sea. Trade between China and the Association of Southeast Asian Nations (ASEAN) region increased more than 10 percent last year, to $444 billion. Earlier this week, Xi visited two island nations in the Indian Ocean—Sri Lanka and the Maldives—before arriving in India on Wednesday.
China and the Maldives released a joint statement on Monday: "The Maldives welcomes and supports the proposal put forward by China to build the 21st Century Maritime Silk Road," it read. "The two sides agreed to enhance cooperation in other areas, such as marine, economy, and security."
The Maldives is arguably the nation most vulnerable to climate change, poised at the forefront of risks posed by rising sea levels. Nearly 80 percent of the land on its 26 islands lies less than a meter above current sea levels. Changing weather patterns caused by increasing temperatures—including more extreme tropical storms—will also disrupt livelihoods and is likely to threaten health.
China is the world's largest carbon emitter. However, in a signed editorial published in a Maldivian newspaper, Xi pledged, without listing details,:"China will continue to pursue close cooperation with [the Maldives] on climate change, human rights and other issues." (A bit of skepticism may be in order on human rights.)
Xi's speechwriting team has been especially busy lately. The Chinese president also has an editorial published in Wednesday's the Hindu newspaper, entitled, "Towards an Asian century of prosperity." In it, he wrote of China and India: "The combination of the 'world's factory' and the 'world's back office' will produce the most competitive production base and the most attractive consumer market."
Before it's here, it's on the Bloomberg Terminal.
LEARN MORE