Alibaba Has Already Made Masayoshi Son Japan's Richest Man
By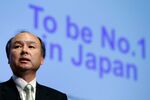 Even before Alibaba's shares start trading, the man who runs its biggest shareholder is getting a boost from the Chinese company's giant initial public offering—big enough to become his country's richest man. No, not Alibaba's lead founder and chief executive, Jack Ma, who is on track to be the richest person in China once shares start trading, because of his 8.8 percent stake in the company.
But the biggest Alibaba shareholder is SoftBank, the Japanese telecom and Internet company run by Masayoshi Son that owns about 34 percent of Alibaba. With all the excitement surrounding the IPO, SoftBank's share price has jumped 14 percent since the beginning of September. As a result, Son is now the wealthiest person in Japan. The 57-year-old has a net worth of $16.6 billion, according to the Bloomberg Billionaires Index, putting him ahead of Tadashi Yanai, chairman of Fast Retailing, parent of Uniqlo.
SoftBank is also enjoying a lift from its mobile games. With such hits as Clash of Clans and Puzzles & Dragons, SoftBank's Supercell Oy and GungHo Online Entertainment are some of the world's most successful game publishers. Clash of Clans, for instance, is the top-ranked title on Apple's App Store, and Puzzles & Dragons is No. 3, according to App Annie and IDC. (In between is King's Candy Crush Saga.) SoftBank dominates Google Play, too, with both hit games topping the sales chart.
The news isn't all upbeat for SoftBank's boss, though. Last month he gave up on an effort to merge SoftBank-owned Sprint with T-Mobile US. The deal's collapse was an embarrassing setback for Son, who acquired majority control of the No. 3 U.S. operator last year and wanted to add T-Mobile to close the gap on Verizon and AT&T. Without T-Mobile, he needs to find a way to rev up Sprint on its own. One way: Lock in iPhone fans by offering them updated handsets every two years. Sprint introduced its "iPhone for Life" program last week.
The U.S. isn't the only place where SoftBank is trying to capitalize on the popularity of the iPhone. Apple's smartphone is wildly popular in Japan, and SoftBank was the first to market with it, but market leader NTT DoCoMo last year finally started offering customers the iPhone. With SoftBank, DoCoMo, and KDDI all offering iPhones, Apple's share of the Japanese smartphone market jumped to 36.6 percent in the fiscal year that ended in March, up from 25.5 percent the previous year, according to MM Research Institute.
As competition for iPhone users heats up in Japan, SoftBank is trying to take advantage of its network in the U.S. Hence the news today from Tokyo, where Executive Vice President Ken Miyauchi revealed that SoftBank customers using the new iPhone 6 while traveling in the U.S. will be able to make free calls, both within the U.S. and back to Japan. And there's more: They'll also be able to download unlimited data.
Before it's here, it's on the Bloomberg Terminal.
LEARN MORE