Airbus Keeps A380 Production Rate Even With Scarce Orders
Andrea Rothman and Hans Nichols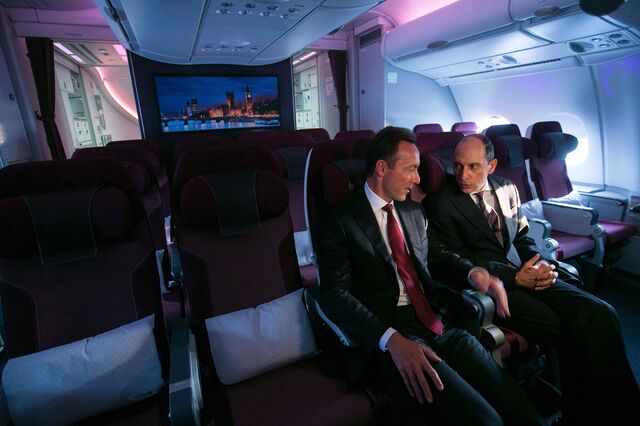 Airbus Chief Executive Officer Fabrice Bregier said the company can maintain a production rate of almost 30 A380 a year even amid slack demand, and will seek to build fresh interest with superjumbos coming off lease.
Bregier, speaking at the Airbus factory in Hamburg, where Qatar Airways Ltd. took delivery of its first A380, acknowledged that interest in the largest commercial airliner has been "soft," with no deals from airlines so far this year. Still, the planemaker has enough double-deckers on order to keep production at close to 30 annually, he said.
The flagship Airbus has proven increasingly tough to sell, and some operators are struggling to put it to use or are canceling orders outright. Airbus has sought to broaden the appeal of the A380 by selling 20 planes to a leasing company that has pledged to find buyers that don't yet have the A380 in their fleet. The order, announced more than year ago, has so far not translated into a single accord with any carrier.
Airbus rose as much as 12 cents, or 0.2 percent, to 49.19 euros in Paris. The stock has lost 12 percent this year, after almost doubling in value in 2013.
To help market the aircraft, Airbus is pressing existing and potential customers to consider higher density configurations with closer to 600 seats that would boost per-seat revenue. Most operators have put in 400 to 500 seats, fewer than the 550 Airbus originally had envisioned.
Going Wild
Emirates and Singapore Airlines Ltd., the biggest and the first operators of the aircraft, have sold their planes in sale-leaseback transactions that will see the first of the superjumbos come off lease from 2017. Unless the carriers choose to extend their leases, those planes will then be up for sale, providing another possible avenue for prospective buyers.
"We look forward to it, as it will boost use of A380s for customers who just can't afford the aircraft," Bregier said in an interview. "One of the drawbacks of such a beautiful aircraft is that you have to inject a lot of capital upfront."
Qatar itself is seeking to maximize returns by putting 517 seats in its A380s -- 416 in economy, 48 in business, and eight in first-class -- and by avoiding from some of the more extravagant layouts and offerings that competitors have installed. Several airlines have added first-class suites that fully enclose the traveler, and Etihad Airways PJSC is planning a private cabin it calls the "Residence," with a double bed, living area, shower, and personal butler.
"'You don't really have to go over the moon providing things," Qatar Airways CEO Akbar Al Baker said today on board his first new A380, which will serve Heathrow airport in London. "We are there to make money, so we have to be a little conservative that we don't do too much, but we do enough to maintain the class and be profitable."
Qatar will take delivery of a second A380 in coming weeks and take another two before year-end. It has ordered a total of 10, with three more on option.
(A previous version of this story was corrected to reflect the accurate annual build rate of the A380 and the seat layout.)
statistics
Before it's here, it's on the Bloomberg Terminal.
LEARN MORE