Willing to Wait 15 Months? There's Good News: Argentina Credit
Camila Russo and Charlie Devereux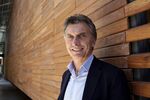 For holders of Argentina's defaulted bonds who are willing to wait 15 months for the chance to get paid, Mauricio Macri's surge in presidential polls provides a measure of consolation.
The 55-year-old mayor of Buenos Aires, who said last month Argentina's refusal to comply with a U.S. court order requiring the nation to settle decade-old unpaid debts held by billionaire Paul Singer would be like "bread today, hunger tomorrow," has seen his support among voters more than double to 23.2 percent since April, the latest survey results showed. After languishing in third place for much of the year, Macri has now vaulted to a virtual tie with the two leading contenders.
Less than eight weeks after the legal standoff with holdout creditors led to Argentina's second default in 13 years, voters are throwing their support behind the candidate who's been the most outspoken about the need for a resolution as the latest crisis sinks the economy deeper into recession. Reaching a compromise would let Argentina, which holds elections in October 2015, resume bond payments that are currently being blocked. It would also remove the last vestige of its record default in 2001 and help end Argentina's isolation from international markets.
"Macri was lagging far behind, but now it looks like he has a real chance to win," Orlando Ferreres, director of Orlando Ferreres y Asociados and a former deputy economy minister, said by phone. "He's the most market-friendly and the only one who said right away, 'We need to find a negotiated solution with the holdouts and comply with the ruling.'"
Rising Support
Ivan Pavlovsky, a spokesman for Macri, didn't return three e-mails and a phone call seeking comment on the poll results and the default.
The poll of 2,400 people, released Sept. 14, was conducted by Management & Fit from Sept. 2 to 9 and has a margin of error of 2 percentage points.
Support for Daniel Scioli, a 57-year-old former vice president and current governor of Buenos Aires province, remained unchanged at 24.3 percent in the latest poll. Lawmaker Sergio Massa, the former cabinet chief under President Cristina Fernandez de Kirchner, was favored by 23.5 percent, down from 25 percent in an earlier poll. Scioli, Massa and Fernandez all belong to the political movement known as Peronism, derived from the policies of Argentina's populist leader Juan Domingo Peron, who ruled the country from 1946 to 1955 and from 1973 to 1974.
Blocked Payment
Scioli's press official Juan Courel didn't return a telephone call and e-mail seeking comment on how the candidates would deal with holdouts. Scioli, who belongs to the ruling coalition Victory Front, has said he supports a government plan to pay the foreign bonds locally to circumvent the U.S. ruling.
Claudio Ambrosini, Massa's spokesman, said the lawmaker's plan would also include changing the debt-payment location while negotiating with the creditors.
The legal dispute stems from Argentina's 2001 default on $95 billion. While the nation renegotiated about 92 percent of its debt with creditors by issuing new bonds worth 30 cents on the dollar, some holders including Singer rejected the terms, sued and were awarded full payment in court.
U.S. Judge Thomas Griesa ordered trustee Bank of New York Mellon Corp. to keep $539 million of interest payments until Fernandez complies with the ruling or settles. The default, which pushed the economy deeper into recession, has also fueled the worst peso rout since 2002 as Argentines hoard dollars.
Debt Plan
The currency was little changed today at 8.4032 per dollar as of 2:11 p.m. in New York.
Half of Argentines disapprove of Fernandez's handling of the default, while 31.2 percent approve, according to the poll.
"If it's a controlled recession, then a candidate from the ruling party such as Scioli has a chance of winning," Management & Fit director Mariel Fornoni said by telephone on Sept. 15. "The panorama becomes more complicated for Peronism in a situation where the economy can't be controlled and everything gets worse."
Economy Minister Axel Kicillof, who met with holdout creditors in New York in July, said the "vulture funds" are seeking to profit off of extortion and that it's "impossible" to comply with the ruling. On Aug. 19, the government said it plans to skirt the court ruling and make bond payments via local banks. The bill, which was approved by the lower house Sept. 11, also gives investors the option to voluntarily exchange international bonds into new debt issued under domestic law.
'More Burdensome'
The day after the government announced the plan, Macri said at a news conference that his party's legislators would vote against it. In a July 24 interview with Todo Noticias TV channel, he said Argentina should "negotiate in court the best possible conditions in favor of Argentina and solve the problem."
While Massa broke from the ruling coalition, founded his own party and is opposed to the bill, he has proposed a solution that also aims to sidestep the U.S. ruling.
Bondholders who piled into Argentina's dollar-denominated bonds, betting the nation would avert the default, have suffered losses since the July 30 deadline passed without a resolution.
Argentina's benchmark dollar bonds due 2033 have fallen 10.45 cents on the dollar since reaching a four-year high of 95.57 cents on July 30.
Legal Stalemate
While they've held above their five-year average because the default was the result of the legal stalemate rather than an inability to pay, holding out until the next administration settled with holdouts would mean missing out on at least $2.9 billion of interest payments for investors in the country's international bonds.
Stephen Spruiell, a spokesman for New York-based Elliott, didn't respond to an e-mail from Bloomberg News seeking comment.
The bill proposed by the government reduces chances that Argentina will seek to resolve the default and a solution with holdouts may depend on the next administration, Goldman Sachs Group Inc. economist Mauro Roca said in a Sept. 5 report.
"It's unlikely that the government will decisively work on finding a solution until the default becomes more burdensome for the economy and, as a consequence, loses political support," he wrote. "But with more than a year left until the end of the current presidential mandate, solving the default may well be a task for the next administration."
Before it's here, it's on the Bloomberg Terminal.
LEARN MORE