pursuits
What It's Like to Be Attacked by Putin's American Flack
Paul M. Barrett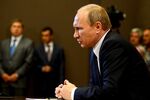 Investigating the gun industry, Muslim extremists, and high-stakes litigation, I've grown accustomed to deadline intimidation from corporate legal departments or an executive's personal PR squad, but only this week am I getting a feel for what it's like to be the target when a sovereign nation goes into crisis-communication mode.
Worried about revelations in Law of the Jungle, my soon-to-be-released book about the epic Chevron oil pollution case, the Republic of Ecuador's U.S. public relations advisers, New York-based Ketchum, has sent a six-page, single-spaced memo to Ecuador's ambassador to the U.S., Nathalie Cely. Marked "reservado y confidencial," the memo, prepared in Spanish throughout, outlines "difficult questions" the book raises "that negatively affect Ecuador," and includes an ad hominem swipe. "It remains unclear when and how many times Barrett visited Ecuador or if he interviewed anyone from the Government," the memo states. "This can be converted into a point that we can raise, but only in suitable settings and among appropriate journalists."
I obtained a copy of the memo from a helpful noncombatant who works for neither Ketchum nor the ambassador and who requested anonymity for all the obvious and usual reasons. The damage-control document is a peculiar combination of advice on how to discredit the messenger—"this can be converted into a point …"—and admissions that the book raises issues that do not reflect well on Ecuador's government.
A division of the advertising and marketing giant Omnicom, Ketchum counts among its clients President Vladimir Putin of Russia—no doubt a challenging engagement, what with Russia fomenting mayhem in Ukraine. Kathy Jeavons, a Ketchum partner in Washington, heads both the Russia and Ecuador accounts for the firm. I asked Ketchum—and Jeavons individually—for comment. Through an internal spokeswoman, the firm declined to say anything of substance, referring me to the Ecuadorian embassy. Ketchum didn't dispute the memo's authenticity.
Before getting into the particulars of Ketchum's memo, here's a brief overview of Law of the Jungle: In 2011, Steven Donziger, a New York plaintiffs' attorney, won a $19 billion oil pollution judgment against Chevron on behalf of farmers and tribe members in the Ecuadorian rain forest. Chevron fought back. It sued Donziger in New York under the U.S. anti-racketeering law. In March, a federal judge ruled that Donziger obtained the historic Ecuadorian verdict by means of fabricated evidence, coercion, and bribery. He denies wrongdoing and has appealed.
In speeches and via a global public relations initiative called "the Dirty Hand," Ecuadorian President Rafael Correa has vociferously backed Donziger's suit and condemned Chevron. Ketchum's memo about my book connects the dots regarding why Ecuador cares so passionately about the case. Among the "difficult questions" Law of the Jungle raises, according to Ketchum:
• "The book discusses in detail that the Government of Ecuador approved the clean-up done by Texaco-Chevron." Texaco was the company active in the rain forest in the 1970s and 1980s; Chevron acquired Texaco in 2001. In the mid-1990s, Texaco agreed to clean up one-third of hundreds of pollution sites; Ecuador took responsibility for the other two-thirds. The Ecuadorian government certified the adequacy of Texaco's remediation efforts and formally released the oil company from liability. Chevron relies heavily on these facts when contending that it bears no legal culpability for the pollution that remains.
• The book notes "the lack of environmental regulations in Ecuador, then and now, and observes recent spills on the part of Petroecuador." Texaco spewed a lot of oil and sullied a lot of streams in the 1970s and 1980s, a period when Ecuador did little environmental regulation. After Texaco left, the national oil company, Petroecuador, took over and proved itself, if anything, a more careless steward. In one scene from my field reporting, I describe stumbling across a live Petroecuador spill. The continuing contamination makes it more difficult to apportion blame for what happened four decades ago.
• "Ecuador took the biggest part of the income obtained from petroleum extracted from the Amazon, approximately $23.5 billion against $1.6 billion for Texaco-Chevron." The precise figures are subject to dispute, but according to government records, the split was roughly 90-10 in favor of Ecuador. This contradicts a central theme of the plaintiffs' (and Correa's) narrative: that Texaco derived all the benefit from industrializing the rain forest and left the host country with only the nasty side effects. The Ketchum memo warns the embassy that my reporting raises additional questions: How did Ecuador spend its majority proceeds from oil exploitation? Why wasn't this money spent on environmental controls? Why was the money not used to help those harmed by the drilling?
As for the memo's suggestion that it's "unclear" how often I visited Ecuador or interviewed its government, the book plainly describes my visits to the oil fields, the homes of farmers and tribe members, and the offices of prominent figures in Quito. Did I interview government officials? Yes. I interviewed, among others, Ambassador Cely, and wrote about it here.
Through a spokesman, Cely said via e-mail: "I have a policy of not commenting on information that is privileged and confidential, especially when its authenticity has not been verified." (Like Ketchum, she didn't question the memo's authenticity, though.) Cely continued: "I do, however, have some principled and serious issues with your conclusions, and while I respect your right to express your views, I do not believe it is constructive to criticize those who wish to express contrary, thoughtful views. My complicated schedule has so far prohibited me from finding enough free time to read the book in full, but I look forward to doing so at the earliest opportunity, as I am interested to learn more about your perspective on the case."
Before it's here, it's on the Bloomberg Terminal.
LEARN MORE