U.S. Transport-Stock Rally Faces Dollar Hurdle: Chart of the Day
David Wilson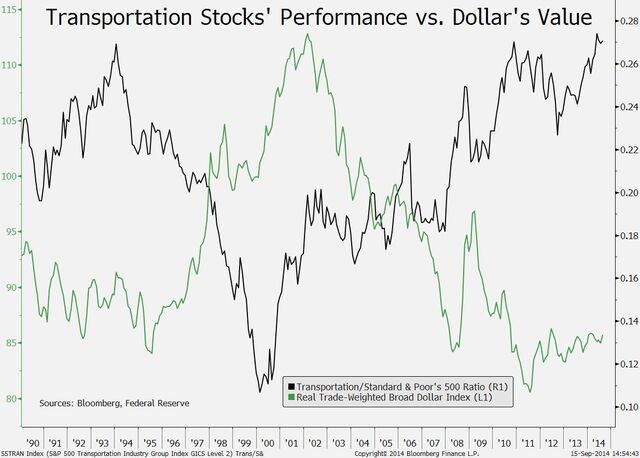 Record-setting gains for shares of airlines, shippers and other transportation companies may give way to losses as the dollar moves higher, according to Tobias Levkovich, Citigroup Inc.'s chief U.S. equity strategist.
The CHART OF THE DAY compares the performance of transportation stocks relative to the Standard & Poor's 500 Index with a dollar index compiled by the Federal Reserve, as Levkovich did in a Sept. 12 report. The Fed's monthly gauge is trade-weighted and adjusted for inflation.
This quarter's advance in the Bloomberg Dollar Spot Index, a daily barometer of the U.S. currency's value against 10 other major currencies, was 4.7 percent as of yesterday. The index hasn't gained that much for a full quarter in three years.
"A rising dollar presents some challenges for companies that do business overseas, especially when translating those revenues and earnings back into U.S. terms," Levkovich wrote. Transportation stocks are especially vulnerable, according to the New York-based strategist, because of their pattern since 1990 of falling when the dollar strengthens and vice versa.
The S&P 500 Transportation Index, comprised of 11 stocks, almost quadrupled since the current bull market began in March
2009. The gauge was the period's sixth-best performer among 24 industry groups in the S&P 500 through yesterday, and set its most recent record on Sept. 5.
Commodity producers may also suffer, Levkovich wrote, as their shares also tend to move in the opposite direction of the dollar. Energy stocks were among the quarter's worst performers in the S&P 500 through yesterday. Raw-material producers also fell as the S&P 500 advanced 1.2 percent.
Before it's here, it's on the Bloomberg Terminal.
LEARN MORE