U.S. Listing Plan Gives ICL an Edge in Taxation Battle
Shoshanna Solomon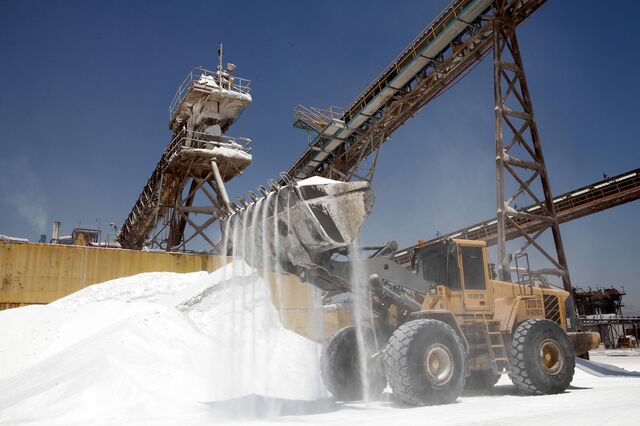 Israel Chemicals Ltd.'s listing in New York next week may open the door for the fertilizer maker to remove its stock from the Tel Aviv bourse, giving it a new edge in its battle against government tax increases.
The nation's second-largest publicly-traded company, which says the U.S. listing will broaden its investor base, could use the move as a negotiating tool after a government panel in May proposed steps to double the public's share of profits from natural resources, according to analysts at UBS AG and Psagot Investment House Ltd. The fertilizer maker has already threatened to cut back its business in the country.
Israel Chemicals canceled $750 million of investment and put a further $1 billion of spending on hold as the row with the government escalated. Its stock makes up more than 6 percent of the benchmark share gauge in Tel Aviv. Volumes on the country's bourse are dwindling after a reclassification by index provider MSCI Inc. and companies are leaving amid increased regulation.
"The listing of the shares in the U.S. is ominous," Gilad Alper, a senior analyst at the brokerage unit of Petach Tikva-based Excellence Nessuah Investment House Ltd., which manages the equivalent of $23 billion, said by phone Sept. 15. "It demonstrates the state of mind of the company and it might be followed by moving the actual business, and that's a lot more meaningful and negative to the economy overall."
'Additional Leverage'
Israel Chemicals said today it has no plans to de-list from the Tel Aviv Stock Exchange. A U.S. listing "is meant to broaden ICL's global investor base, promote the liquidity of the trade in the company's shares, and broaden the capital raising abilities by way of exposing the company to additional global capital markets, to provide flexibility in managing the company's capital structure and to strengthen the company's financial and operational position and its position as a global company," it said in an e-mailed statement, citing a Sept. 12 filing.
Israel Chemicals last week filed to sell shares in the U.S., with trading expected to begin on the New York Stock Exchange on Sept. 24. The company also said Sept. 12 that it was seeking phosphate mining joint ventures, without providing details. Chief Executive Officer Stefan Borgas said last month it's in talks to invest in Latin America and Asia.
"The company is looking to diversify its operations due to the increasingly difficult regulatory environment in Israel," Roni Biron, an analyst at UBS in Herzliya, said by phone on Sept. 15. "The U.S. listing fits with this strategy and may be used as additional leverage."
Finance Minister Yair Lapid appointed a committee last year with a mandate to examine government policy on royalties and taxes paid by companies which use natural resources. The committee said in its interim report that it would raise the public share of mining profits to a range of 46 percent to 57 percent, at least double the current payment.
Trading Drought
Trading volumes in Tel Aviv hit a five-year low in April after companies including Mellanox Technologies Ltd. delisted last year and others such as Wix.com Ltd., a web platform developer, opted to list overseas. Just four companies have issued new shares on the exchange this year, compared with a record 56 in 2007, according to exchange data. Israel Chemicals' shares have declined 0.2 percent this year, compared with an 8.3 percent jump of the TA-25 index.
"De-listing from Tel Aviv might further antagonize the regulators who will have even less incentive to give favorable terms to a company that will be less and less involved with Israel," Jacob de Tusch-Lec, who helps oversee about $23 billion in equities at London-based Artemis Investment Management LLP, said in a phone interview on Sept. 15.
Closing Plant
Israel Chemicals, which mines minerals and potash from the Dead Sea to make fertilizers and industrial products for agriculture and food purposes, employs 5,500 people in Israel, according to data provided by the company. It plans to close its magnesium plant at the Dead Sea by January 2017 and implement cost cuts, it said last month.
The committee's preliminary recommendations imply a net impact of about $160 million to profit, effective after January 2017, ICL said in an investor presentation this month. The company posted a 79 percent drop in profit in the second quarter, according to data compiled by Bloomberg.
"Since the interim report was presented, the committee has held hearings and discussions," a spokesman for Israel's Finance Ministry said Sept. 15 in an e-mailed statement. "In these days the committee is finalizing the report which is expected to be presented to the Finance Minister shortly."
Before it's here, it's on the Bloomberg Terminal.
LEARN MORE