Tony Stewart Crash Probe to Be Referred to Grand Jury
Chris Dolmetsch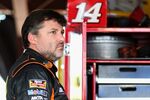 The investigation of a fatal crash at a New York racetrack involving three-time Sprint Cup Series champion Tony Stewart that left a fellow driver dead will be referred to a grand jury, authorities said.
District Attorney R. Michael Tantillo of Ontario County said in a statement released yesterday that he reviewed a sheriff's department probe and decided to send the evidence to the grand jury for consideration in the near future.
Stewart, 43, hit and killed Kevin Ward Jr., 20, during a dirt-track race at Ontario County's Canandaigua Motorsports Park on Aug. 9. Their cars had collided and Ward had left his car after striking a wall, authorities said.
The use of a grand jury isn't unusual and was used by prosecutors to decide whether to charge George Zimmerman, the man who shot and killed unarmed black teenager Trayvon Martin in Florida in 2012, as well as the prosecutors probing the shooting death of an unarmed black man in Ferguson, Missouri, by a police officer on the same day as the Stewart crash in August, said Bennett L. Gershman, a professor at Pace Law School in Manhattan.
"Where a grand jury is able to be empaneled I think prosecutors see it as a way of deflecting controversy," said Gershman, a former prosecutor with the Manhattan District Attorney's office. "The prosecutor doing it on his own is taking the risk that the public either will approve or disapprove. There will be lots of people who will be able to criticize the prosecutor for showing favoritism or bending over backwards to bring charges."
District Attorney
Grand jury proceedings are confidential by law, and Tantillo said he can't say when the evidence will be presented, who will be called as witnesses or the content of their testimony. The district attorney will make public the results, he said.
Nascar banned its drivers from leaving their vehicles after accidents on Aug. 15, barring circumstances such as fire or cockpit smoke. Stewart skipped three races after Ward's death, returning in the Oral-B USA 500 in Atlanta on Aug. 31, where he blew a front tire and had to exit on the 172nd lap of the 325-lap race.
"I respect the time and effort spent by both the Ontario County District Attorney and the sheriff's office in investigating this tragic accident," Stewart said in a statement. "I look forward to this process being completed and I will continue to provide my full cooperation."
The use of a grand jury is seen as a way of deflecting public criticism, as such panels are generally seen as neutral bodies that look at evidence and make a "fair and proper determination," Gershman said.
Grand Juries
While grand juries have been criticized as being a tool of prosecutors and a "rubber stamp," the public views them as more impartial than a prosecutor who makes the decision to bring charges -- especially in controversial cases such as the Stewart crash, Gershman said.
"When you step back and you have a body of 15 or 21, however many grand jurors there are, hearing evidence and deciding to indict or not to indict, I think the public feels a little more confident that justice has been done as opposed to the prosecutor doing it on his or her own," Gershman said. "The grand jury is a sort of a buffer."
Stewart is a co-owner of the Stewart-Haas racing team, which includes himself and fellow drivers Danica Patrick, Kevin Harvick and Kurt Busch. Sponsors include Exxon Mobil Corp., General Motors Co.'s Chevrolet, Coca-Cola Co. and Luxottica Group SpA's Oakley, according to Stewart's website. His annual earnings are estimated by Forbes at $12.5 million. The Sprint Cup Series is Nascar's highest level of racing.
A native of Columbus, Indiana, Stewart started his career racing go-karts in 1985. He was U.S. Auto Club National Midget champion in 1994 and the next year became the only driver in USAC history to win three national titles in the same season. He was inducted into the National Midget Auto Racing Hall of Fame in 2001.
Indy Cars
Stewart moved to open-wheeled Indy cars in 1996 and won the Indy Racing League's rookie of the year honors. He joined Nascar in 1999 and was top rookie in his first year. He won the stock-car racing league's season points title in 2002, 2005 and 2011 and has won 48 Nascar races, earning the starting pole position 15 times.
While Stewart is a team owner and one of the top drivers on Nascar's top tier, he has long had a love for racing on dirt tracks and schedules short-track events every year. The Aug. 9 fatality came about a year after he broke his lower right leg in two places when he crashed in a dirt track race in Oskaloosa, Iowa. The mishap cost him the second half of the Nascar season.
Ward grew up in Port Leyden, New York, a village about 75 miles northeast of Syracuse, according to an obituary in the Watertown Daily Times. Ward began racing go-karts at the age of 4 and was in the fifth year of racing in the Empire Super Sprints 360 Sprint Car Class throughout the U.S. and Canada, according to the obituary.
The Aug. 9 crash occurred 14 laps into the 25-lap race. Ward's and Stewart's cars collided, and Ward lost control of vehicle and hit an outside retaining wall. The race was put into caution, slowing the participating cars.
Ward, wearing a black helmet and firesuit, unbuckled himself, walked onto the dirt track and gestured at approaching cars, including Stewart's, which struck him.
The grand jury isn't likely to take more than a week or two to decide whether to bring charges against Stewart, as there is not much evidence beyond video of the crash to review, Gershman said.
"It's not all that clear that Stewart is or is not chargable with some kind of homicide," Gershman said. "It's not clear. You don't know what all the facts are. This prosecutor felt it was the prudent best course of action to take to get the right result and also to have the public feel confident that the right result was reached. When a grand jury does it, I think it's more likely that the public is going to feel a sense of confidence in the way the justice system works."
Before it's here, it's on the Bloomberg Terminal.
LEARN MORE