The One Lie That Brought Down Walmart's PR Chief
By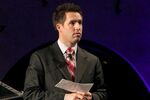 Until his unexpected departure, David Tovar has been the most public of Wal-Mart Stores' vast public-relations team. For the past year or so, in addition to responding vigorously to any criticism of the retailer, he's been sending mass e-mails to journalists with helpful tips about how to report on worker protests, among other more cheery musings. Sample e-mail subject lines include: "Exciting changes," "American Pride," "Taco Plate," and "Hmmm…"
And then late last week came the message titled "Farewell." He wrote that he was resigning after "eight amazing years … a better person and better professional as a result." Dozens of reporters reading the e-mail thought to themselves: Hmmm …
There was more to his departure, as Bloomberg News reported today: It turns out that Tovar left Walmart because he had lied on his résumé about graduating from the University of Delaware in 1996. He declined to address questions about his academic record, saying only that it seemed like the right time "to start a new adventure."
A CNBC interview from later on Tuesday offered more details: Tovar said that the résumé "error" was spotted in an outside background check as part of his promotion to senior vice president. When asked about it by his employer, Tovar said he was "100 percent transparent." He explained that he had walked in the university's graduation ceremony, only learning afterward that he was a few credits short. He doesn't seem to dispute the no-diploma problem.
Tovar then left college and got a job in New York. "I really didn't think an art degree would matter in communications," he told CNBC. Yes, Walmart's PR honcho was once an art student.
When Walmart executives told Tovar he couldn't be promoted because of the background check, he says he resigned. "I'm leaving on good terms," he told CNBC, "and Walmart has been very supportive." The company still hasn't commented publicly.
In the past, Walmart has been willing to talk about why some executives were let go (see: former brand manager Julie Roehm and lap dance.) Walmart has also been very quiet about the departures of others (see: Thomas Mars and Mexico bribery scandal).
So why didn't Walmart use Tovar to show how seriously the company takes even slight ethical infractions? It's possible that executives didn't want to get involved in a potential public-relations to-do about their public-relations guy. It's also worth noting that, according to Tovar's account, he could have stayed at the company even after executives knew he had lied. He just couldn't be promoted.
It's also potentially embarrassing for Walmart that Tovar got caught in a lie. More than anyone else at the company, he has defended Walmart's wages and working conditions with internal data and forceful assertions. He's the one who responded to an op-ed in the New York Times about Walmart's low wages with his own sarcastic fact check, which in turn was submitted to several fact checks by other news organizations and found wanting. By that point, it's possible that only journalists cared. But still.
Tovar was also the one who went on CBS Evening News ahead of the first protests by workers in November 2012. His warning that "there could be consequences" for employees is apparently one charge among many in a complaint filed earlier this year by the National Labor Relations Board. It accuses Walmart of breaking the law during the demonstrations. The company has said it looks forward to telling the board its side of the story.
Tovar hasn't said where he's going, and Walmart hasn't said who will replace him.
Before it's here, it's on the Bloomberg Terminal.
LEARN MORE