Simple Tasting Menu Shines at East Village's The Eddy: Review
by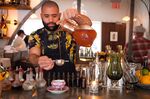 The finest peach I ate this year was tucked under anise hyssop and basil leaves on a wreck of burrata at The Eddy, delivered by a serene waitress in a backless tank on one of the last hot evenings in September. The fruit was sweet, deep orange, richly textured, and made more exciting with a few tiny shards of crisp chicken skin ($13). It was so good, it made me feel like I'd wasted the end of my summer doing things other than eating peaches.
The Eddy, which opened in May, is a casual little bar and restaurant with a compact menu on a noisy stretch of the East Village. Outside, the sitar player from an Indian restaurant down the street may pace and chain smoke while he talks on the phone between sets, his cigarette smoke wafting through the open windows and messing with the delicious smells from the back kitchen. As the evening wears on, grown men and women will be drawn to the action around the glowing bar and press their shining faces to the long glass windows like children at the zoo. Some of them will come inside: a long-haired bro in short, brightly colored pants and high tops with a woman in a silk romper, a klatch of young women in denim mom shorts and ripped boyfriend jeans. Many tables decide to go for the set menu when they see it's just $58. It's called a tasting, but it's not formal at all, which suits the way a lot of people like to eat: Some plates are shared, some are not, a few things come to the table at once.

The Eddy isn't the only place in town doing this style of unfussy set menu. Huertas, Jonah Miller's fantastic Basque bar just a block away has a back room where the $55 menu of the day recently involved a stunning dish of half-raw ruby red shrimp and gently-flavored garlic puree swimming in loads of olive oil. None of the plates were shared, but there's a similar sense of casualness (and low prices) to the operation that tricks you into thinking you could eat like this once a week. And maybe you could. These are not special occasion, once-in-a-lifetime tastings to plan out months in advance. Yes, the latter can be great, but so is making a night of it for no good reason.
Elegant Tendon
At The Eddy, the format matches the food, unpretentious and often elegant. Take the tendon, that tough cord connecting beef to bone, which doesn't sound like a good match for delicate beads of trout roe. It requires some effort to convince the tendon to play nice. Braised for many hours, finely sliced, dehydrated, then finally deep fried in oil, the tendon curls and puffs into a crunchy, grooved chip. When it's filled with something like onion dip and capped with roe ($8 for 4), it's as pretty as a caviar-loaded blini and a fine way to kick off dinner.
If you're vegetarian you're probably sick of Every Lazy Kitchen's Vegetarian Pasta Option. But the ricotta gnocchi here, when you eat them immediately and they're extremely hot, melt away on your tongue. They are giants, three to a plate, glazed with butter ($14). Otherwise there's just peas, toasted hazelnuts, and a few thin slivers of shiitake in the bowl. It may not be groundbreaking, but it's very well done.

I'm not sure if The Eddy really serves "coastal cuisine," one of those vague tags stuck on places that serve seafood, but the kitchen does well with tender squid piled on thick, intensely flavored ajo blanco with corn and whole leaves of tarragon ($14). And the big fat pieces of raw scallop are a highlight of the tasting menu. Under a network of Korean chile threads, tangled with wide ribbons of pickled mushroom, the scallops are sweet and bright, plated so they're easy to share ($15).
There is warmth and style among the servers, and you don't get the sense that everyone has dressed out of the same catalogue, a nice change. The restaurant doesn't feel like it's driven by a single personality, but a few. Brendan McHale, the chef, worked summers on Block Island, and later for Barbara Lynch in Boston, before cooking at Jack's Luxury Oyster Bar in New York. The last is where he met the regular who would become his business partner at The Eddy, Jason Soloway. But first, McHale went off the restaurant grid to run a test kitchen at Tasting Table (a company that employed me at another time).
Made With Malört
Kelvin Uffre runs the bar, where he makes intensely flavored and elaborately beautiful cocktails, including one with Malört -- the bitter, herbaceous, Chicago-produced liquor so rough-tasting, its own label warns people away. Uffre tames it nicely with damson plum gin in something he calls the Morgan LeFay ($13).

There were several times when I wished the food was just a touch sharper and more carefully seasoned, like when a plate of roasted carrots on fatty cashew puree seemed to be missing a layer of acidity. And I couldn't quite wrap my head around the fried eggplant -- the vegetable was undercooked inside in a very thick layer of batter, then glumly draped with strips of pancetta. But that was a rare case of going overboard, at a young restaurant making its mark by knowing when and where to hold back.
Some of the loveliest, simplest, and most vegetable-focused dishes at The Eddy -- the quartered heirloom tomatoes in cool bonito-infused tomato water ($14), and that burrata salad -- aren't actually on the tasting menu. This means that while tomatoes and stone fruits are still around, while it's still warm enough to crack open the windows, before fall menus change over and the evenings get short and dark, you have more than a few good reasons to pop in for dinner.

Rating: One star.

What to order: Stone fruit and burrata salad ($13); Ricotta gnocchi ($14); Scallop crudo with mushroom escabeche ($15).
Who's next to you: An East Village gent in very skinny jeans and Jack Purcells, an NYU student with his visiting parents, a table of young women with A+ nail art.
Need to know: The casual $58 tasting menu (two bar snacks, four shared plates, an entree, and dessert) is a steal, but doesn't always include some of the most well-executed dishes on the menu.
Soundtrack: At the bar, the delightful noise of ice clanging in cocktail shakers is constant, plus a small after-work crowd that gets kind of shouty. In the dining room, Talking Heads and Morrissey are on the speakers.
The Eddy is at 342 East Sixth Street (East Village). +1-646-895-9884 or theeddynyc.com
(Tejal Rao is the New York food critic for Bloomberg. Follow her on Twitter @tejalrao)
To contact the reporter on this story: Tejal Rao in New York at trao9@bloomberg.net

To contact the editors responsible for this story: Justin Ocean at jocean1@bloomberg.net Chris Rovzar

Before it's here, it's on the Bloomberg Terminal.
LEARN MORE