RBA's Kent Says Further Aussie Fall Would Boost Local Firms
Michael Heath and Angus Whitley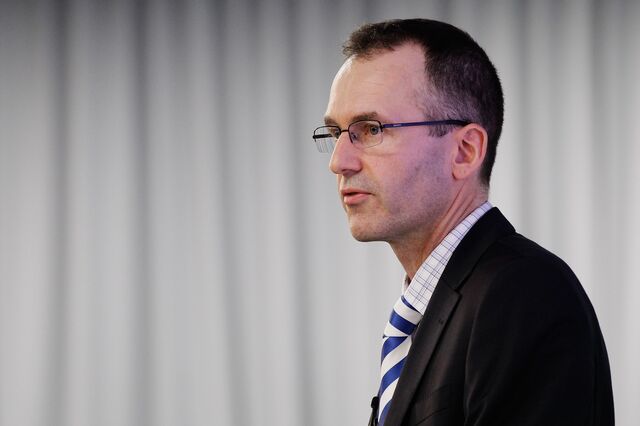 A further decline in Australia's currency would support demand for local producers that compete with imports, central bank official Christopher Kent said.
"The still-high level of the exchange rate may be weighing on investment of firms in the traded sector," Reserve Bank of Australia Assistant Governor Kent said in the text of a speech at the Bloomberg Summit in Sydney today. "The exchange rate has declined somewhat relative to its peak in the first half of 2013. But it remains high, especially given the sizable decline in commodity prices this year."
Kent said a record-low benchmark interest rate had cut the cost of finance to companies and suggested a period of greater uncertainty and "below-average" confidence accounted for the slow pickup in investment outside the resources industry.
The Aussie dollar has dropped 1.9 percent over the past week to trade at 90.34 U.S. cents as of 9:52 a.m. in Sydney, and touched a six-month low of 89.84 yesterday. That's the steepest decline among the Group of 10 developed-market currencies.
The RBA cut its cash rate to 2.5 percent as it tries foster a transition toward domestic drivers of the economy and avoid a trough in growth as mining trails off. While loose policy has spurred the property market and boosted residential construction, many other firms remain hunkered down, opting to pay dividends rather than invest.
Business Reluctant
"Our liaison program suggests that businesses generally remain reluctant to take on significant new investment projects until they can be confident of a more sustained improvement in demand conditions," Kent said. "How long do conditions need to hold at above average levels before the improvement is considered to be sustainable?"
Total private capital spending will fall 10 percent to A$145.16 billion in the 12 months to June 2015, according to government estimates. That would be the fastest pace of decline since 1992. Outside mining, Australia's private sector spent about A$68 billion on capital in the year to June, the lowest since 2007 even as the economy has grown 20 percent since then.
"Some combination of relatively low growth in domestic demand, the effects of the high exchange rate, a lack of confidence and a lower appetite for risk," than in the past appears plausible, Kent said of the slow transition to non-mining investment. "There are some metrics consistent with this, and it aligns too with what businesses say is holding them back."
House Prices
The RBA lowered borrowing costs from late 2011 to August 2013 and has held its cash rate target at 2.5 percent since then. In response, house prices in the year through August jumped 16.2 percent in Sydney and 11.7 percent in Melbourne, according to an RP Data-CoreLogic Home Value Index.
Discouraging firms is an Australian dollar that has averaged about 91 U.S. cents in the past eight years, including a record-high $1.10 in July 2011, prompting a wave of manufacturing closures including the planned shuttering of the nation's car industry. In the 15 years that followed Australia's last recession in 1991, the currency averaged about 68 cents.
The nation's terms of trade, which the currency traditionally tracks, declined 4.1 percent in the second quarter from three months earlier and 7.9 percent from the same period a year earlier.
"A further decline in the exchange rate would provide additional support to demand for domestic firms producing tradable goods and services," Kent said. "At the same time, however, the high exchange rate also means that imported capital goods are currently relatively cheap."
Before it's here, it's on the Bloomberg Terminal.
LEARN MORE