French Ad Man Levy Hangs On as Publicis CEO for Three More Years
Kristen Schweizer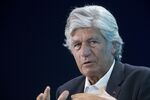 Publicis Groupe SA Chief Executive Officer Maurice Levy again delayed his long-mooted departure from the French advertising company, saying he will stay at least three more years after the management team was reshuffled.
Levy, 72, said in May his CEO mandate at the world's third-largest advertiser ran through 2015 and that he would outline succession plans this month, yet Publicis today said he would stay until at least 2017. Chief Operating Officer Jean-Yves Naouri, who had been tipped as a possible successor, has been dropped from the management board.
Changes to the executive team come after Publicis's planned $35 billion merger with peer Omnicom Group Plc was abandoned in May when Levy and Omnicom CEO John Wren clashed over how to run the combined entity.
Doubts about who would take the place of Levy have lingered for several years, with even the debonair Frenchman expressing a desire to retire at times. "If the Omnicom deal had gone ahead there would've been a bit more succession planning with regards to Levy's own position," said Alex DeGroote, a media analyst at Peel Hunt in London. "They've got to reinstate their story to the investment community and to their own staff and clients."
Publicis's planned merger with Omnicom, which would have created the world's largest advertising company, was seen as Levy's legacy to the company. Disputes over key management roles as well as tax and regulatory hurdles caused the merger to collapse almost a year after it was toasted with champagne on the Champs Elysees.
New Team
The shares rose 0.5 percent to 56.67 euros at 4:49 p.m. in Paris, giving the company a market value of 12.4 billion euros ($16 billion).
A new management team installed at Publicis will add top executives from the company's agencies, including Starcom MediaVest Group CEO Laura Desmond, ZenithOptimedia CEO Steve King, Publicis Worldwide CEO Arthur Sadoun and the chief strategist of the group, Rishad Tobaccowala.
"We can read this as a change in strategy to say 'Look, we are doing something' after a first half that was disappointing and a weaker performance,'" said Ian Whittaker, a media analyst at Liberum in London.
Kevin Roberts, a member of the management board and chief of Publicis's Saatchi & Saatchi Worldwide unit, will also end his term of office the same time as Levy.
Transition
Levy led Publicis into the digital age, as advertising went from spreads in newspapers and magazines to digital pop-ups and banner ads on the Web. He oversaw acquisitions of Internet advertising firms with the purchases of Digitas, LBi International and Razorfish, and pushed the company to new business in emerging markets.
Levy's verbal sparring in the press with WPP Plc CEO Martin Sorrell was the talk of the ad industry for years. Sorrell leads the world's largest advertising company.
"It's difficult to believe that Maurice will not continue to exert significant influence or even control over the complex of committees," Sorrell said today. "After all Publicis and Levy go together like strawberries and cream, or maybe more like a baguette and cheese."
In July, Publicis reported sales that missed analysts' estimates while Omnicom had the fastest growth in more than two years, underscoring the difficulties facing the French ad company since the collapse of the $35 billion combination. Levy likened the deal's failure to a breakup that's preferable to a messy divorce.
Before it's here, it's on the Bloomberg Terminal.
LEARN MORE