Property Trusts Pull Support as Mounting Debt Due: China Credit
Bloomberg News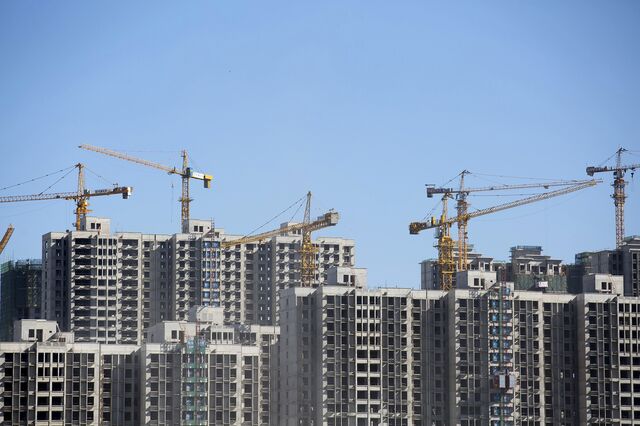 Property trusts are funneling the least amount of money into Chinese developers in almost five years as maturing debt balloons, escalating default concerns.
Issuance of trusts for real-estate projects, which target wealthy individuals, slid to 30 billion yuan ($4.9 billion) this quarter from 67.8 billion yuan in the three months to June 30, the least since the start of 2010, data from research firm Use Trust show. Borrowing costs are rising as developers face $9.1 billion in bonds and loans maturing by year-end. Hubei Fuxin Science & Technology Co. sold AA rated securities with a 9.2 percent coupon Aug. 26, above the 6.38 percent average yield for similar-rated notes.
Cash from operations are also facing a squeeze as home sales fell 10.9 percent in the first eight months of the year in the world's second-largest economy, which is forecast by the government to expand at the slowest pace in 24 years. Standard & Poor's sees a risk that a developer may default in the coming 12 months, highlighting weak earnings at Renhe Commercial Holdings Co. and Glorious Property Holdings Ltd.
"Given the bad housing sales, fewer trust companies are willing to help property companies raise money," said Li Ning, a bond analyst in Shanghai at Haitong Securities Co., the nation's second-biggest brokerage. "Default risks are rising rapidly before so much debt is due next quarter."
Renhe, Glorious
Glorious Property's $300 million of 13 percent notes due October 2015 yield 22.62 percent compared with 19.75 percent on Jan. 1, Bloomberg-compiled prices show. Renhe Commercial, a developer of underground shopping centers, has $300 million of 11.75 percent bonds due in May, which yield 39.88 percent.
Renhe's cash balance "doesn't produce a picture that allows them to redeem the bonds next year," said Christopher Yip, a director of corporate ratings in Hong Kong at S&P. "But we're still looking at the possibility of a refinancing plan, or an improvement in operations."
The amount of property developers' bonds and loans due in 2015, including both dollar-denominated and yuan debt, is $24 billion, according to data compiled by Bloomberg. The value of residential homes sold from January to August declined to 3.43 trillion yuan, from 3.85 trillion yuan a year earlier, government data released last week show.
"Some developers will have problems with liquidity and the ability to refinance," said Yip. "There are a few we're concerned about. Those are the ones at the lower end of the ratings spectrum with rather large offshore issuances."
Surging Debt
Without allowing defaults, the risk is that Chinese companies will continue to pile on debt. The International Monetary Fund said in July that China's reliance on credit and investment has created "rising vulnerabilities." Overall company debt jumped to about 110 percent of gross domestic product in 2013 from an average 92 percent in 2003 to 2007, the Washington-based lender said in a report.
Authorities are expanding funding channels for home builders. Regulators plan to allow unlisted companies, including real-estate firms, to issue corporate bonds on the Shanghai stock exchange, the Economic Information Daily reported Sept. 15. The National Association of Financial Market Institutional Investors held a meeting on Aug. 29 with underwriters about letting listed developers rated AA or above sell bonds on the interbank market to fund residential blocks, people familiar said earlier this month.
"Even though the government has expanded funding channels, according to the current rules we've heard of, only bigger developers will be allowed to sell bonds," said Haitong's Li. "Smaller developers still have limited access to funding. They're the ones most vulnerable."
No Plans
Corporate borrowing costs in China have fallen this year as authorities aim to pump more money into the economy. The yield on AA rated five-year corporate bonds has declined 124 basis points this year to 6.36 percent. The rate on similar government debt is 4.02 percent, 234 basis points less.
"Even though liquidity is ample, we haven't bought any property bonds and we don't plan to," said Qiu Xinhong, a bond fund manager in Guangzhou at Golden Eagle Asset Management Co., which oversees about 11.3 billion yuan. "Credit risks of this industry are too high."
The ratio of debt-to-equity on a Bloomberg Industry gauge of 84 Chinese property companies has climbed to 129.9 percent, the highest since at least 2005 and almost double the Bloomberg World Real Estate Index's 76 percent.
Developers have 53.04 billion yuan of trusts coming due in the fourth quarter, up from 45.56 billion yuan in the three months to Sept. 30, according to the Use Trust data.
'Downward Trend'
"There are many uncertainties in the property industry, while the whole economy is on a downward trend," said Shuai Guorang, a Nanchang, Jiangxi province-based researcher at Use Trust. "Trust companies have been cautious about selling products linked to property financings. A lot of property trust products were sold in the previous two years and many of them are maturing this year."
Closely held Zhejiang Xingrun Real Estate Co., located south of Shanghai, collapsed in March under 3.5 billion yuan of debt. Shuai said others may default on their borrowings later this year when they run out of money.
"We don't believe the government will launch policies that will fuel further high growth for the sector," said Yip at S&P. "However, if the property market's performance continues to be weak, the government may need to roll out more supportive measures such as relaxing financing channels."
— With assistance by Judy Chen
Before it's here, it's on the Bloomberg Terminal.
LEARN MORE