Magellan Seeking to List Global Fund for Pension Savers
Adam Haigh and Narayanan Somasundaram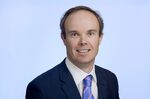 Magellan Financial Group Ltd. is seeking to list a global stocks fund to draw investment from Australian individuals managing their retirement savings.
Allowing investors to trade the open-ended fund on an exchange would make it more appealing to the self-managed superannuation industry, Magellan Chairman Brett Cairns said at the Bloomberg Summit in Sydney today. If the Sydney-based asset manager proceeds with the listing, it will offer a new fund that mirrors the investment strategy of the A$5.6 billion ($5.1 billion) Magellan Global Fund, he said.
"We've spent a lot of time and effort over the past six months," working on solving the practical issues needed to complete the listing, Cairns said. "Hopefully we're getting to the end of it."
Australia's A$1.85 trillion pension savings industry includes more than A$550 billion that is managed by individuals. After mostly ignoring the do-it-yourselfers for the two decades since SMSFs were started, major banks and financial institutions, including AMP Ltd., Commonwealth Bank of Australia and Westpac Banking Corp., are now seeking a slice of the fees the funds generate.
The Magellan Global Fund, run by Chief Executive Officer and co-founder Hamish Douglass, gained 24 percent per year over the past three years, according to a report on its website. Those returns beat all except one of the 368 global equity funds available in Australia with more than $100 million in assets over the period through Sept. 9, according to data compiled by Bloomberg.
North American stocks made up 42 percent of the fund's holdings at the end of last month, with its 10 biggest investments including Microsoft Corp. and Oracle Corp.
Magellan's board is yet to decide to proceed with the listing, Cairns said.
"There's some real tensions between those that manage money and actually have some intellectual property that they're trying to protect, and actually being able to put that on an exchange," he said during the panel discussion. Magellan is working through those issues, he said.
Before it's here, it's on the Bloomberg Terminal.
LEARN MORE