Germany Lifts Its Uber Ban—for Now
By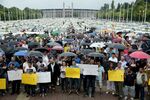 Uber has beaten back its first-ever nationwide ban and will now be allowed to operate its low-income service, UberPOP, in Germany.
A court decision issued on Tuesday came as a victory for Uber, but it won't have an immediate impact because the startup never complied with the German ban that was issued in August. Nor does the decision solve the matter; the court's reasoning rests on a technicality. Uber is likely to face a different version of the same dispute once the taxi organization that filed the original complaint regroups.
Taxis Deutschland's complaint against Uber argued that the American company represented unfair competition: Uber drivers lack the licenses required to work at other car services and, unlike taxis, can pick their passengers. Versions of this dispute are at the heart of much opposition to Uber, and the company has made the familiar claim that it's a technology platform connecting drivers and riders, not a transportation company.
Uber even commissioned a report by Rupert Scholz, a former German minister of defense, which found that its business model didn't violate German law. A company spokesman insisted again on Tuesday that the service "is innovating within the framework of the law."
German legislators might come over to Uber's side, but the court has not. It said only that Uber's opponents made an unconvincing claim as to the need for emergency action because they knew the company was launching its service in spring 2014 but waited until July to ask for a ban. "Even after deliberations, the court sticks to its view that Taxis Deutschland can win a ban against Uber," said presiding Judge Frowin Kurth, according to Bloomberg News. "But after reviewing the arguments in this emergency case, we have to reverse the ruling since this isn't an urgent case. Only for that reason we lift the ban."
Uber is comfortable operating in an atmosphere of legal uncertainty, and its troubles in Germany's courts don't seem to be curbing demand for its rides on German streets. The country is one of Uber's fastest-growing markets in Europe, the company says, having grown fivefold this year.
Before it's here, it's on the Bloomberg Terminal.
LEARN MORE