Foreigners Buying Australia Homes Need Closer Watch, MP Says
Nichola Saminather and Narayanan Somasundaram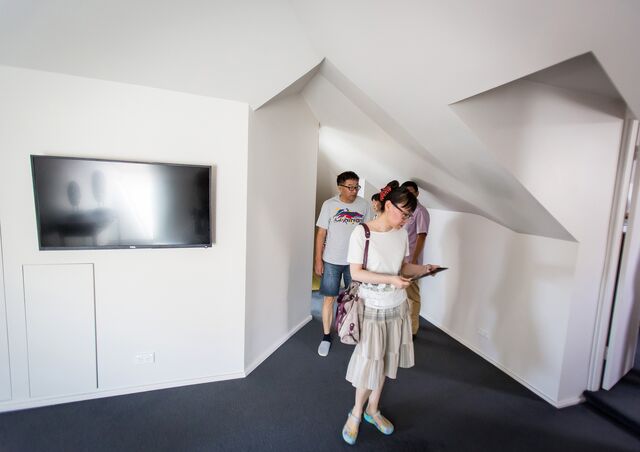 Australia needs to better enforce restrictions on foreign investment in housing, a lawmaker chairing a parliamentary committee on the issue said, amid concern overseas buyers are stoking a bubble.
The Foreign Investment Review Board, or FIRB, which oversees rules governing such property purchases, "has demonstrated that they have not been doing their job in that regard," Kelly O'Dwyer, chairwoman of the House Economics Committee, said at the Bloomberg Summit in Sydney today.
"In order to give confidence to people you have to have a regime that will be properly enforced," O'Dwyer, a member of parliament for the Melbourne suburb of Higgins, said. "FIRB said that we think everybody is complying a little bit better. I think that defies credibility."
O'Dwyer's committee is conducting an inquiry into foreign buying of Australian residential property and is expected to report on its findings by Oct. 10. Chinese buyers are leading a surge in foreign demand for Australian homes as they seek to mitigate political and economic risks at home, educate their children overseas and live in a clean environment, according to an August report by CLSA Asia-Pacific Markets.
"We're seeing quite a bit of new foreign investment into new dwellings," Treasurer Joe Hockey said at the same Bloomberg event. "That may well continue for some time, certainly if the Aussie dollar comes off a bit."
Australia tightened rules on foreign investment in real estate in 2010, requiring offshore buyers to purchase only new properties, and introduced penalties to enforce the changes. It also said temporary residents must obtain approval from FIRB to buy homes, and must sell when leaving the country.
No Prosecution
"There has not been a prosecution, there has not been a divestment order issued against anybody since 2006," O'Dwyer said. "There has been a failure of leadership in FIRB."
Australia is the No. 1 destination for Chinese seeking to emigrate after Canada, which in February implemented restrictions on foreign investment and immigration, according to the CLSA report. Australia approved almost A$25 billion ($23 billion) of home purchases by foreigners in the nine months through March, 45 percent more than permits granted over the entire previous fiscal year, the Treasury department said in a submission to the inquiry.
"We are looking at a civil penalty regime that would apply to people who contravene the rules," O'Dwyer said. "We are actually looking at a sliding scale that would attach to the value of the property when people contravene the current rules in place."
The money raised from penalties would help equip FIRB to gather more comprehensive data to base policy decisions on and enforce existing rules, she said.
Market Distortion
O'Dwyer, announcing the inquiry in March, cited concerns that "foreign investment in Australian real estate is causing a distortion in the market and making housing less accessible and affordable." The inquiry is examining the economic benefits of foreign investment, whether it's helping to increase supply, how it compares with other countries and if the nation's foreign investment policy can be improved, according to the statement.
Surging Prices
Australian house and apartment prices surged 11 percent in August from a year earlier, led by gains of 16 percent in Sydney and 12 percent in Melbourne, according to the RP Data CoreLogic Home Value Index. The nation has the third-most overvalued housing market on a price-to-income basis, after Belgium and Canada, according to the International Monetary Fund.
Australian housing is expensive relative to other countries because of an undersupply of homes, particularly in Sydney, David Rees, head of research at Jones Lang LaSalle Inc. said during the event. Low yields in other asset classes are also sending investors flocking to real estate, he said.
"It is just an easy mantra for international commentators and for analysts based overseas to say, 'well, there's a bit of a housing bubble emerging in Australia,'" Hockey said. "That is a rather lazy analysis because fundamentally we don't have enough supply to meet demand."
Australia has a shortage of 300,000 homes, David Cannington, senior property analyst at Australia & New Zealand Banking Group Ltd., told the Bloomberg Summit. Direct foreign investment is adding about A$4.5 billion every quarter to total dwelling construction, he said.
Driving Growth
In Australia's current sluggish growth environment, "this is one source of economic growth that's driving the economy at the moment," Cannington said. "Cutting back on foreign investment for new housing construction is not the way to go in addressing the price issue."
Additional restrictions on foreign investment in Australian housing would increase risks for smaller developers, said Iwan Sunito, chief executive officer of Sydney-based Crown International Holdings Group, which builds apartments in Sydney.
"Local developers are almost competing like David and Goliath" against larger overseas companies building in Australia, Sunito said during the panel discussion. As banks won't lend to developers who sell more than 25 percent to 30 percent to foreign buyers, "there's a natural protection there. Foreign developers often don't have those restrictions."
Before it's here, it's on the Bloomberg Terminal.
LEARN MORE