Exclusive Christie's Patek Philippe 175 Auction Preview
by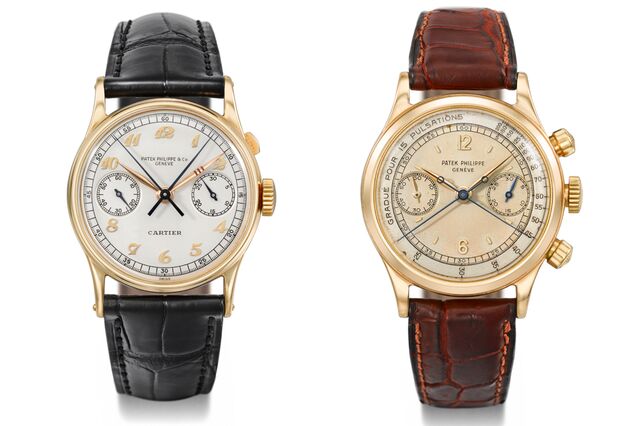 To celebrate watchmaker Patek Philippe's 175th anniversary, Christie's is hosting a thematic auction on November 9th at Geneva's Four Seasons Hotel des Bergues. The sale will include 100 lots, including everything from 19th-century enamel pocketwatches to 1980s complicated wristwatches. Here is an exclusive first look at this historic auction, including top lots and preview details.

Patek Philippe 175 is the second thematic auction Christie's has hosted in as many years. And like 2013's Rolex Daytona "Lesson One" sale, we anticipate world records being set, millions being spent on unique watches, and an atmosphere as close to a rock concert as a watch auction can get. There will be twice as many lots, and the potential for things to get crazy will be half the fun.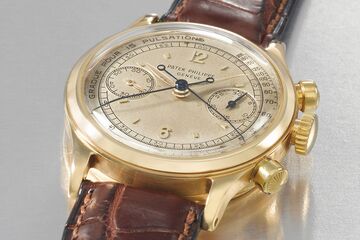 100 Special Lots
For this sale, Christie's has collected 100 watches that cover the entire vintage era of Patek's history, from 1839 until the 1980s. While emphasis is, predictably, on the high-end lots, low estimates range from 5,000 CHF ($1,069) for an 1899 pendant watch featuring an engraving of Hercules, to 1,600,000 CHF ($1,710,525) for a pink gold, first series reference 2499 perpetual calendar chronograph. There will be 53 wristwatches, 42 pocket watches, four clocks, and one original 1893 technical patent document in the sale. Approximately 25% of the watches are accompanied by their original boxes and papers, and more than 50% are so-called "fresh to market" watches, meaning they come from the original owner's family and have never been publicly sold.
John Reardon, international head of Christie's watch department, said in an interview that he would describe 48 of the lots as "unique," meaning the watch is the only known example with a particular dial and hand combination, with box and papers, or some other distinguishing characteristic. The catalog will be a 350-page oversized tome with a leatherette cover (in addition to being available online) and Reardon is emphatic that this is "not just about the sale, but Patek Philippe scholarship in general. It's going to be the most cutting-edge academics in the world of Patek Philippe." Finally, some new bedtime reading for watch nerds.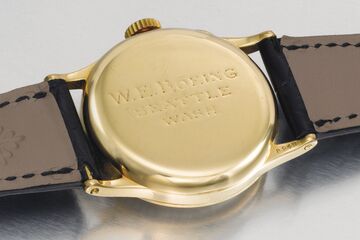 Auction Highlights
Christie's actively sought watches with provenance in addition to quality and rarity. "Each piece, whether 5,000 Sw i ss Francs or half-a-million, [has] a story to be told, and we tell that story," said Reardon. A perfect example of this is a reference 130 one-button, split-seconds chronograph that is signed "Cartier" on the dial in addition to "Patek Philippe." If you haven't just fainted, you don't know your vintage Patek. That's not all, though. If you turn the watch over, it's engraved "W.E. Boeing. Seattle, Wash." and has been consigned to Christie's directly by the descendants of the founder of the aviation behemoth. This one watch combines golden-age Patek Philippe aesthetics, technical mastery, and historic significance.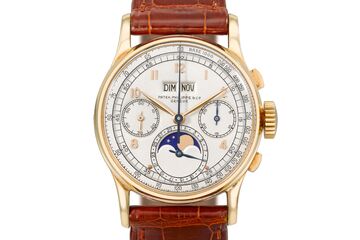 No Patek Philippe auction would be complete without a few perpetual calendar chronographs. The reference 1518 was unveiled in 1941 and was the first perpetual calendar chronograph ever produced in series. Only 281 examples were produced over the watch's 14-year life. This yellow gold 1518 dates to 1945 and was formerly owned by King Farouk of Egypt. Aesthetically, it is a rare example of understatement for a man inclined towards bright red Bentleys and 94-carat diamonds. The estimate is 300,000 to 500,000 CHF ($320,675 to $534,530).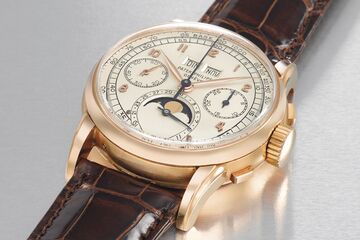 Replacing the 1518 was the reference 2499 perpetual calendar chronograph, which went through various series over its 35 years of production. From the first series, made for just a few years in the early 1950s, only four examples are known to exist in pink gold. This is the only example with English import marks. This watch has the highest estimate in the sale, 1,600,000 to 2,600,000 CHF ($1,710,525 to $2,779,560). Considering that a second series pink gold ref. 2499 fetched over $2.1 million at Christie's in November 2013, that estimate could easily be left in the dust once the paddles start flying.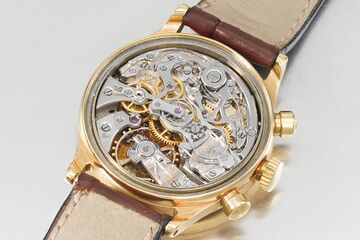 Rounding out the high-end of the sale is a reference 1563 split-seconds chronograph. Only three 1563s were ever made, and each is unique. One resides in the Patek Philippe museum in Geneva and was originally owned by jazz legend Duke Ellington. Another, with luminous Breguet numerals and sword-shaped hands, was sold last year by Christie's for a little over $1.5 million. This watch comes from the personal collection of Jean-Claude Biver, director of timepieces for Louis Vuitton Moët Hennessey, and is the last of the trio. It has a two-tone dial with pulsation scale around the edge and is in immaculate condition. The estimate is 800,000 to 1,600,000 CHF ($855,350 to $1,710,700).
Making History
The Christie's Patek Philippe 175 sale is likely to become a milestone in the world of watch collecting. The 150th anniversary sale held in 1989 by Antiquorum, an auction house specializing in watches, was the event that catapulted Patek collecting to its current (slightly insane) heights. Collectors nostalgically murmur about the pre-anniversary auction days, when top watches could still be had for sub-million-dollar prices. Those days are long gone and Christie's has no intentions of looking back.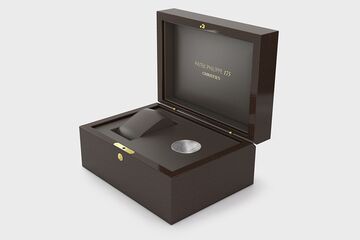 Estimates for this anniversary sale are purposefully low. "People are going to go crazy," said Reardon of the low estimates. The goal is to encourage interest and bidding instead of relegating participation to only the highest bidders. Low estimates also make it difficult to determine exactly where the bidding might stop, adding some theater to the auction itself. This is as much a performance in tribute to Patek's history as it is an opportunity to purchase investment grade watches.
Each watch will come with three keepsakes to commemorate the sale. The first is a silver coin struck by Christie's, each individually numbered to match the lot number of the watch it accompanies. This coin will be presented in a wooden box that is custom designed to fit each of the watches in the sale so that the two can sit side-by-side for posterity. Finally, each watch comes with the archive paperwork from Patek Philippe, appropriately dated November 9, 2014.
Before the sale, Christie's will be taking highlights to Dubai, Taipei, Hong Kong, Milan, New York, Seattle, and San Francisco for client previews. The full catalog should be available in print and online in approximately two to three weeks.
Before it's here, it's on the Bloomberg Terminal.
LEARN MORE