Draghi's ABS-Market Revival Set for Boost From Regulators
Jim Brunsden, Rebecca Christie and Ben Moshinsky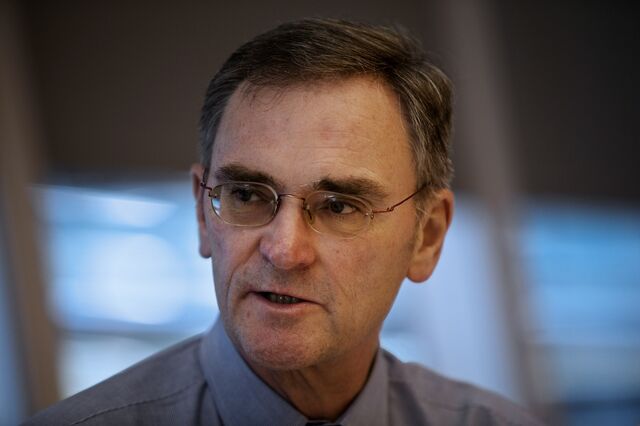 Mario Draghi is trying to rebuild the market for asset-backed securities in Europe. Global regulators are set to lend him a hand.
The International Organization of Securities Commissions will present criteria for marketable ABS to finance ministers from the Group of 20 nations this week, said Chairman Greg Medcraft. Iosco wants to help create standards that would encourage non-bank investors to buy.
A broader ABS market could improve companies' access to financing and spur growth. That's the goal behind the European Central Bank's plan to purchase "simple and transparent" bundled securities with underlying assets including residential mortgages, Draghi said this month.
"What we've done is develop criteria of what we consider to be simple, transparent and consistent securitization," Medcraft said. "We're looking at providing a framework that actually assists the market."
The European market for ABS, like that in the U.S., was brought close to extinction in the financial panic of 2008, which was fueled in part by banks taking heavy losses on securitized U.S. subprime mortgage debt even though the tranches they held had been considered high quality. It has been slow to recover.
'Key Principles'
Draghi said on Sept. 4 that the ECB will buy senior tranches -- the least risky -- of simple and transparent packaged securities. "We want to make sure that these ABS are being used to extend credit to the real economy," he said.
The ECB is struggling to jumpstart a euro-area economy that stalled in the second quarter, and reverse the two-year trend of shrinking lending.
Medcraft said that Iosco's research, carried out by a joint taskforce with banking regulators, shows that the principles of simplicity, transparency and consistency are crucial to making ABS attractive to non-bank investors such as pension funds and asset managers.
"They are the three key principles," he said. "We've looked at that in terms of 16 criteria, looking at asset risk, structural risk, service and fiduciary risk, which is the way an investor, and the rating agencies, look at risk."
The global development of the swaps market owed much to the standard agreement created by the International Swaps and Derivatives Association, Medcraft said. "You can do a swap in 10 minutes, because you have an ISDA market document. Simplicity is golden," he added.
Auto Loans
"If this market is seriously going to develop, it's actually got to develop with non-bank investors," Medcraft said. "The true market, particularly for high-quality securitization, should really be selling it to people who are trying to invest in high-quality fixed-income bonds."
About 181 billion euros ($234 billion) of bonds backed by everything from auto loans to credit-card payments were issued in Europe in 2013 compared with a peak of 711 billion euros in 2008, according to data from the Association for Financial Markets in Europe. U.S. issuance totaled 1.5 trillion euros, down from a 2003 peak of 2.9 trillion euros, the data show.
"We need common global standards for sound and simple securitizations," Michel Barnier, the EU's financial services chief, said in a speech on Sept. 12. "If we get this right, I am sure there is real potential for increased growth."
G-20 Meeting
Medcraft said one of the problems with the ABS market is that "it became far too issuer driven -- doing stuff that issuers needed but not necessarily what investors wanted."
Iosco will update G-20 finance ministers meeting in Cairns, Australia this week, and report to G-20 leaders at their summit in Brisbane in November.
As the push to revive the market builds momentum, EU and international standard-setters are working on as many as 19 measures that could affect demand, according to a draft EU document obtained by Bloomberg News. Many will be rolled out in the next year.
These include an overhaul by the Basel Committee on Banking Supervision of its capital rules for banks' investments in ABS, in a bid to make the standards better reflect risk levels.
Medcraft said that authorities should avoid measures that discriminate against asset-backed debt.
"Investors are saying they want neutrality," he said. "We're not saying 'give us a special break here,' but we do want that it's consistent. So for instance when it comes to capital charges for covered bonds vis-a-vis those for securitized products, they should be neutral."
Medcraft said ABS in the right hands is a "fabulous technology."
"You look at the U.S., the auto-loan sector is booming in securitization," he said. "I think the market is maturing, but it's about winning back investors. We don't want to regulate it. We want to provide a nudge."
Before it's here, it's on the Bloomberg Terminal.
LEARN MORE