Crashing Bund Forecasts Signal QE: Euro Credit
Lucy Meakin and Eshe Nelson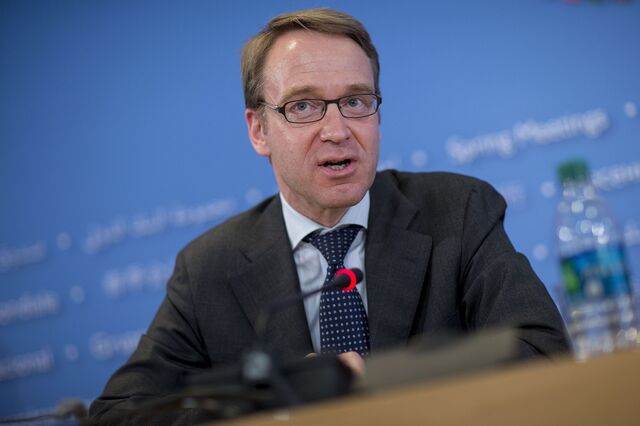 Banks are cutting their bund-yield forecasts at a record pace as they bet the European Central Bank's latest stimulus program will be expanded to buying the sovereign debt of member states.
The ECB will allot the first funds under its four-year lending program, or targeted longer-term refinancing operations, at 11:15 a.m. tomorrow in Frankfurt. President Mario Draghi said this month the ECB will also buy asset-backed securities and covered bonds to boost its balance sheet to 2012 levels, meaning an increase of as much as 1 trillion euros ($1.3 trillion). Investors are watching this year's tenders for signs of whether the latest measures will achieve that goal.
"It plays into this idea of 1 trillion euros of expansion of the ECB balance sheet and how much of that is going to have to be done by ABS," said Anthony O'Brien, a fixed-income strategist at Morgan Stanley in London. If TLTRO take-up "is a lower number, does that mean they're going to have to do more of a full-scale quantitative-easing program to get the balance sheet up?"
Since announcing the new loans in June, the ECB has cut interest rates as well as announced its asset-purchase program. The yield on bunds has halved this year, falling below 1 percent in August, enriching investors who have clung to the security of Europe's benchmark bonds.
Bond Purchases
Analysts are now speculating whether the central bank will buy sovereign bonds. ECB Governing Council Member and Bundesbank President Jens Weidmann said that too expansive a monetary policy would put stability at risk, while other officials have cast doubts on how effective QE would be.
Ten-year bund yields will be at 1.10 percent at the end of the year, according to the median forecast of economists in a survey by Bloomberg published on Sept. 15. That compared with an earlier estimate of 1.45 percent. The weighted average of year-end analyst predictions compiled by Bloomberg was cut by 21 percent over the past week to 1.09 percent.
Bund yields were little changed at 1.05 percent as of 4:56 p.m. London time. Europe's largest economy sold 2-year notes at a record-low average yield of minus 0.07 percent today.
German government bonds have returned 7.6 percent this year, compared with a 2.3 percent loss in 2013, according to Bank of America Merrill Lynch Indexes.
Forecast Cut
Morgan Stanley cut its year-end forecast for 10-year yields to 1.20 percent from 1.70 percent in August to reflect the new low-rate environment, O'Brien said. The reduction also reflects the increased likelihood of the central bank needing to introduce a program of QE, he said.
The ECB is expected to issue 150 billion euros to banks tomorrow, according to the median estimate of economists in a separate Bloomberg survey published on Sept. 15. Combined with the second round of TLTROs in December, the ECB offer could total 400 billion euros this year, according to the central bank's estimates.
The ultimate value of the TLTROs through 2016 and asset-purchase programs will be 985 billion euros, the Bloomberg survey shows. That works out at about a net 635 billion euros after factoring in repayment of loans made by the ECB to banks at the height of the euro-area debt crisis. That's below the amount Draghi's balance-sheet goal implies.
Monetary Stimulus
The ECB has been implementing a program of extraordinary monetary stimulus since late 2011, when the sovereign-debt crisis threatened to splinter the currency union. The average yield to maturity on euro-area government debt dropped to a record-low 1.012 percent on Sept. 5, the day after the last policy meeting, from as high as 4.28 percent in November 2011, according to Bank of America Merrill Lynch indexes. The rate was at 1.12 percent on Sept. 15.
Tomorrow's take-up may be limited by the ECB's decision to lower its deposit rate -- the charge levied on banks to park cash at the central bank overnight -- to minus 0.2 percent. That reduces the attractiveness of taking loans without putting in place specific plans to invest them.
Banks also still hold 348 billion euros in existing ECB loans, which are not set to mature until January and February next year. That may prompt them to wait for the later TLTRO offering before seeking fresh liquidity.
"The overall volume is expected to fall short of what the ECB wants to do in total and the ABS and covered-bond buying programs also target markets that are rather small," said Felix Herrmann, an analyst at DZ Bank AG in Frankfurt. "If these programs are not sufficient, the ECB must do more. QE is now our base-case scenario."
Money Markets
DZ Bank forecast 10-year bund yields will fall to 0.7 percent by year-end and 0.5 percent by the end of March 2015. Last month, it estimated the rate would be at 1.20 percent at the end of the first quarter of next year. The bank does not expect QE to happen before spring 2015.
Money markets indicate traders expect ECB policy to remain accommodative. Three-month Euribor, the rate banks say they pay for three-month loans in euros, was set at 0.082 percent from 0.081 percent yesterday, which matched the least on record.
Two-thirds of respondents to a Bloomberg survey said the ECB won't go as far as large-scale government-bond purchases. Weidmann opposed the rate cuts and asset purchases announced this month. Executive Board member Yves Mersch said last week that buying ABS and covered bonds shouldn't be seen as an "overture" to QE.
ABN Amro Cut
ABN Amro Bank NV cut their year-end forecast to 1 percent from 1.8 percent. The ECB is unlikely to raise interest rates before the end of 2016 and excess liquidity will remain in money markets keeping short-dated rates low, said Nick Kounis, head of macro research in Amsterdam. Total take-up of the TLTROs this year will be up to 350 billion euros, he said.
"It's all about expectations over the next three-to-six months," Kounis said. "Although we don't expect to see full-scale quantitative easing, that expectation looks likely to stick in the market for some time."
Before it's here, it's on the Bloomberg Terminal.
LEARN MORE