Barclays Hid Traders' Role After Questions: Schneiderman
Chris Dolmetsch and Keri Geiger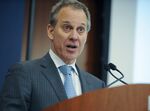 Barclays Plc hid the role of high-frequency traders in its dark pool even after the bank said it had shut off clients who engaged in suspect activity, New York Attorney General Eric Schneiderman said.
Schneiderman sued Barclays in New York State Supreme Court in Manhattan in June, accusing Britain's second-largest bank of bilking its own customers in order to expand its dark pool. The bank in July asked the court to dismiss the case, saying that the suit is based on factual errors and fails to show any investors were harmed.
New York has sought a leading role in seeking to reform equities trading in the $23 trillion U.S. stock market, examining whether exchanges and dark pools give unfair perks to high-frequency traders. He said yesterday in a response to the bank's motion to dismiss that William White, Barclays's head of electronic trading, said during a presentation in 2012 that the firm has shut off clients engaged in suspect trading, even though the bank has said in court filings it "never promised" to bar aggressive traders from the dark pool.
The lawsuit "clearly alleges that Barclays engaged in a persistent pattern of fraud and deceit, lying to its investors in order to grow its dark pool," Matt Mittenthal, a spokesman for Schneiderman, said in a statement. "Based on the facts in our suit, and yesterday's filing, we are confident the court will reject Barclays's motion in its entirety and allow us to prove these disturbing allegations."
Not Justified
Barclays rose 0.9 percent to 231.75 pence in London today. The shares have decreased almost 15 percent this year.
Mark Lane, a spokesman for London-based Barclays in New York, said the bank continues to cooperate.
"However, we do not believe that this suit is justified, and we have a duty to our shareholders, clients and colleagues to defend our position," Lane said in an e-mail.
According to Schneiderman, White said in a June 2012 presentation at the American Enterprise Institute in Washington that the bank has shut off clients who were involved in suspect trading.
"We see behavior change and it moves right back," White said during the presentation, video of which is posted on the institute's website. "We pick it up real time via these tools, we're proactive and we'll actually sever that relationship with that client. What we're doing about it is trying to educate the client base, get out in front of them."
Barclays Culture
Barclays has sought to alter its image and how it operates since being fined 290 million pounds ($472 million) by regulators in the U.S. and the U.K. in 2012 for submitting false London and euro interbank offered rates.
Barclays Chief Executive Officer Antony Jenkins took over after the Libor scandal cost Chief Executive Officer Robert Diamond his job, promising to overhaul the bank's culture and committing to values of integrity and respect.
Allegations of misconduct still follow the bank. It was fined $44 million in May by Britain's markets watchdog for failing to stop a trader from manipulating the price of gold to cheat a client the day after the Libor settlement was announced.
Barclays faces costs of as much as 1.2 billion pounds for its alleged rigging of currency markets, lying to clients about its U.S. dark pool and mis-selling interest-rate swaps, Sanford C. Bernstein Ltd. said last month.
Dark Pools
Dark pools are private stock markets usually operated inside large banks. Unlike exchanges such as the New York Stock Exchange, supply and demand is kept private until after a trade is executed. While that can help investors get better prices by masking their strategies, that opaqueness also fuels suspicion that dark pools' owners don't treat some customers fairly.
Jenkins temporarily removed White from his role overseeing Barclays electronic equities trading in June to focus on the bank's response to the lawsuit, a person briefed on the matter said in July.
Under White, the dark pool moved from the fifth-largest in the U.S. in 2011 to second after Credit Suisse three years later, according to data compiled by Rosenblatt Securities Inc.
Schneiderman said the bank falsified analyses sent to investors regarding the extent and type of high-frequency trading in its dark pool and lied about how orders were protected and routed to Barclays's trading venue.
The bank's "pattern of misrepresentations was designed to induce investors to trade heavily in its dark pool so as to achieve Barclays's goal of becoming the largest dark pool in the U.S.," Schneiderman said.
'Sophisticated Traders'
Barclays said in its motion to dismiss that the attorney general took New York's Martin Act securities law too far in bringing the suit. The law, a powerful anti-fraud statute that can be used by the attorney general, is "limited to actions for fraud in the purchase or sale of 'securities' and doesn't extend to all actions related to finance," Barclays said.
The allegations in the case concern an alternative trading platform known as Barclays LX and "do not identify any misstatements concerning any 'security,'" according to the bank's filing.
Extending the Martin Act to cover alternative trading systems threatens a conflict with the U.S. Securities Exchange Act of 1934, which gives the Securities and Exchange Commission power to regulate systems such as LX, Barclays said.
The suit ignores that customers who use the Barclays LX are "highly sophisticated traders and asset managers" who are responsible for investing millions and billions of dollars worth of assets, the bank said.
Barclays Customers
Schneiderman said the bank's arguments are "misguided and disingenuous."
"Conduct that deceives even highly sophisticated investors is hardly excluded from oversight and enforcement," the attorney general said in the filing. "If anything, that sophisticated investors were targeted by Barclays highlights the fact that its conduct was designed to impact institutions like pension funds and mutual funds that mange securities on behalf of ordinary investors."
The assertion that the Martin Act doesn't apply to its conduct "is contrary to this well-established law," as well as the suggestion that federal law preempts the suit, Schneiderman said.
Barclays said the suit doesn't specify which clients saw brochures and news quotes cited by the attorney general, and doesn't say whether any customers were harmed by them.
'Aggressive' Trading
The marketing materials that the attorney general relies on made it clear that high-frequency traders were a "substantial part" of those using LX, which was touted as a platform where clients could benefit from liquidity provided by HFTs with the option of reducing exposure to "aggressive" order flow, according to the bank's filing.
The attorney general mischaracterized the documents by removing information and context that Barclays provided about high-frequency traders and "aggressive" trading in LX, according to the filing.
One marketing flier that prosecutors said falsely represented the number of high-frequency traders was labeled as a sample and never purported to use actual data, and it disclosed that 35 percent of LX users were high-frequency traders, according to court papers.
"Barclays asks the court to hold, as a matter of law, that use of the word 'sample' somehow cures the the falsity of an intentionally-altered analysis of trading activity in the dark pool, despite the fact that the analysis was by definition not a 'sample,'" Schneiderman said yesterday.
The bank didn't respond to the allegation that it falsified the marketing flier to reduce the percentage of orders that are routed into the dark pool to 35 percent from 75 percent, Schneiderman said.
The case is New York v. Barclays Capital Inc., 451391/2014, Supreme Court of the State of New York, County of New York.
Before it's here, it's on the Bloomberg Terminal.
LEARN MORE