Can Drivers Play Uber and Lyft Off One Another?
By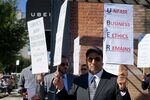 Uber gained its traction in the car service industry in large part because there was little love for what existed before it came along. That was true not only for riders, but also for drivers. Their incomes were meager, they were reliant on exploitative black-car companies, and their ability to find fares on any particular day depended on the whims of the dispatcher manning the phones.
Uber came along with an impartial dispatch system and a built-in rider base willing to pay a premium, and drivers jumped at the opportunity. But the period of Uber's history in which it serves solely as a luxury product has come to an end, and not everyone is happy about the adjustment. For the second week in a row, drivers gathered at the company's New York offices on Monday to protest various company policies. The top issue: this summer's significant price cut to UberX, the company's low-cost service.
In July, Uber said it was cutting the cost of UberX across the country. It now claims to be cheaper than a yellow taxi in many cases. Later in the summer, the company made changes to its app to allow drivers of the higher-end services to pick up UberX rides. Then it started requiring these drivers to pick up the cheapest rides.
There were already several issues simmering among drivers, according to Abdoul Diallo, one of the organizers of the protest. "The boiling point was the last two weeks, when they forced the SUV and black-car drivers to take $8 fares," he says. "How can you be cheaper than a filthy yellow cab? And that's not to disrespect the yellow cabs, but they're dirty. That's something everybody knows."
On Friday, Uber backtracked. While drivers have the option to take low-cost rides, they won't be required to. "We said, 'OK, we made a mistake,'" says Josh Mohrer, the company's general manager in New York. "The vast majority seemed not to want this, so we reversed it."
That concession wasn't enough to quell Monday's protest. The drivers who attended cited Uber's tipping policy, the way it calculates sales tax, and the devaluation of their services through UberX pricing. Mohrer says UberX drivers are making more money than they ever had because the lower prices have increased demand, giving them more work. Mark Kaushanskiy, an UberX driver in Brooklyn, says he's indeed working much longer days but is making about the same money as before. Kaushanskiy claims he used to have to accept 12 to 15 daily fares to reach his target gross income of $450—with the lower prices, he says, he has to take at least 20 rides.
It's not clear how widespread the anger is. Uber's office on Monday was packed with drivers who had walked by the protest with little more than a glance. But the tension reflects a broader challenge for Uber's business model: It has to keep customers happy with lower prices while also keeping drivers happy with higher incomes. So long as the company and the drivers are the only players in this drama, Uber holds most of the cards. It has the highest profile and deepest pockets of any of the smartphone car services, and the drivers rely on it for work.
This dynamic shifts, though, if companies such as Lyft emerge as true rivals to Uber. The cheap UberX rides reflect the competition, as do the hard-edged tactics it has used to fend off Lyft. There's going to be little appetite for more expensive rides. Lyft, which only recently came to New York, is unlikely to win over riders with significantly higher prices. But the company could come up with other ways to exploit a sense of discontentment among Uber's labor pool.
Many of the people holding signs on Monday expressed curiosity about what Lyft would have to offer. "Uber doesn't realize there's a lot of companies like them," says Diallo. "The thing Uber has they don't have is the driver pool and the client base. Driver pool shifts, client base is going to shift."
Before it's here, it's on the Bloomberg Terminal.
LEARN MORE