Sweden's Election Deadlock Sets Stage for Budget Failure
Johan Carlstrom and Niklas Magnusson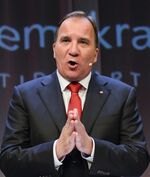 With a hung parliament now a reality in the largest Nordic economy, Swedes may be facing a breakdown in their nation's budget process just three months from now.
The Sept. 14 election ended without a majority for either side. The Social Democrats, which won the most votes, will now try to form a government. The anti-immigration Sweden Democrats, with which all other parties have refused to work, more than doubled their support to 12.9 percent. Prime Minister Fredrik Reinfeldt's outgoing alliance said it's ready to challenge the next budget proposal with a counter motion, setting the stage for a deadlock.
The horse trading has already started. Social Democratic leader Stefan Loefven said yesterday he won't bring pre-election ally the Left Party into government, and instead opened the door to Reinfeldt's former allies, the Center and Liberal parties. The two have already said they're not interested in joining the Social Democrats.
"To close the door on the Left Party this quickly and in this rather brusque way will make it much harder for him to get his budget through," Mikael Gilljam, a professor at Gothenburg University, said by phone.
Krona Sinks
Sweden's krona sank as much as 0.6 percent against the euro following the election results and lost another 0.3 percent today as of 12:46 p.m. in Stockholm. It's the worst performing G-10 currency this year after the threat of deflation forced the central bank to lower rates to 0.25 percent in July.
"Stefan Loefven didn't take the hand we extended and now we will become an opposition party," Left Party leader Jonas Sjoestedt said after meeting Loefven yesterday. "That's bad because it will result in a weaker government."
While the Left won't seek to block the parliamentary approval of any government formed by the Social Democrats and the Green Party, it will only offer support to Loefven's budget proposal if certain demands are met, Sjoestedt said.
The election outcome ended eight years of rule by the conservative-led Alliance, which delivered successive rounds of tax cuts and steered the largest Nordic economy through the financial crisis. The premier, and his Finance Minister Anders Borg, said they will resign and quit party politics.
Budget Law
The Liberal Party plans to back the budget that the outgoing coalition government will present, Johan Pehrson, group leader for the Liberal Party in parliament, said by phone today. The Center Party, led by outgoing Enterprise Minister Annie Loof, also intends to stick with its former allies, spokeswoman Ingrid Hedenvind-Brask said by phone.
While the Liberals "can absolutely" discuss some topics with the Social Democrats, such as education and energy, "it's not enough to govern Sweden -- that they need to achieve together with the Green Party and Left Party," Pehrson said.
Without a majority, the new government will struggle to push through key pieces of legislation including defense spending, according to Martin Enlund, an analyst at Nordea Bank AB. The legislative limbo is the worst possible outcome for Sweden's currency, he said.
Swedish law was designed to make it easy for minority-governments to pass budgets by allowing the bill that gets the most votes pass. That's provided political stability as the Social Democrats ruled without majority backing for most of the period since World War II.
That law was circumvented last year when the opposition broke with tradition and blocked parts of Reinfeldt's budget. His party has said it won't hesitate to do the same.
Bargaining Chips
Bjoern Soeder, party secretary for the Sweden Democrats, said on election night the group isn't afraid of taking steps that could trigger new elections. Party leader Jimmie Aakesson said he will "want something in return" for his support.
Aakesson, whose support for one of the side's budgets would give it a majority backing, said yesterday he may vote for the joint budget due to be presented by the four parties of the outgoing government.
"The Sweden Democrats are very aware of their role and that they don't like the pariah status that they've been assigned," Magnus Hagevi, a lecturer at Linnaeus University in Vaexjoe, said. This "risks creating problems in Swedish politics" including "budget chaos," he said.
Loefven may need to resign should he fail to push through a budget, giving the current government parties a chance to form a ruling coalition. A new election is less likely and can't be held until early next year, according to Swedish law.
Complicated Process
Per Westerberg, speaker of parliament in Stockholm and tasked with asking one of the party leaders to start the process of forming a government, said Sweden is facing a "relatively complicated" process to find a new government as it needs to be able to get its budget passed in parliament.
Westerberg will start the process tomorrow by talking to the party leaders and said he may need several consultations with the leaders to decide whom to ask to form a government. The speaker has four attempts at getting a new prime minister approved before a new election is called, said Westerberg.
"I don't think it will go that far but that's my view," Westerberg said at a press conference at parliament in Stockholm today, adding that he believes Sweden will use its "spirit of compromise" to succeed in forming a new government.
Before it's here, it's on the Bloomberg Terminal.
LEARN MORE