Sberbank's 53% Rally Call Boosts Russian Steelmaker Stock
Elena Popina and Halia Pavliva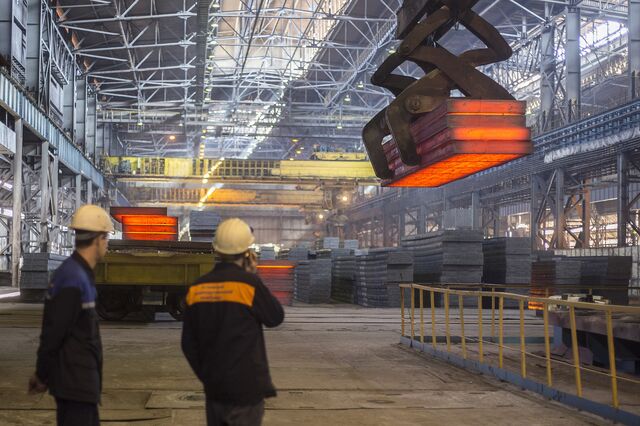 OAO Magnitogorsk Iron & Steel advanced to a nine-month high in Moscow after Sberbank CIB called the Russian steelmaker a buy, citing a cost-cutting program and attractive valuations.
Magnitogorsk, among the cheapest steelmakers globally, may rally 53 percent over the next 12 months, analysts at Sberbank including Irina Lapshina wrote yesterday, upgrading the stock from hold. It rose 0.7 percent to 7.74 rubles by 1:59 p.m. in Moscow, the highest price since December on a closing basis, while its global depositary receipts traded 0.5 percent lower in London at $2.61.
The company, based in Russia's iron-rich Ural mountains, is benefiting from initiatives it's taken to reduce costs as well as a plunge in the ruble triggered by the fighting in Ukraine, Sberbank analysts wrote. They said Russian steelmakers stand to post steep gains in the stock market "once the dust settles" in eastern Ukraine, a view that puts them in company with bulls at Societe Generale SA and BCS Financial Group.
"Magnitogorsk is one of the most attractive stocks in the sector because it is cheap and there are triggers for further growth," Sergey Donskoy, an analyst at Societe Generale in Moscow with a buy rating on the stock, said by phone yesterday. "The Russian steel sector overall is doing great so far this year."
Donskoy has a 12-month price target of $4.95 on Magnitogorsk's GDRs, compared with Sberbank's $3.97 estimate. They closed at $2.60 last week. BCS has a buy rating and a $3 target price, implying a 15 percent price gain. Eighteen of 20 analysts covering the company recommend buying the GDR, the highest total since April 2010.
ETF Slumps
The Bloomberg Russia-US Equity Index of the most-traded Russian companies in the U.S. dropped 1.5 percent to 84.20 yesterday after sliding 3.3 percent last week.
The Market Vectors Russia ETF, the biggest U.S. exchange-traded fund that holds Russian shares, declined 1.9 percent to $24.11 and the RTS Volatility Index, which measures anticipated swings in futures, retreated 3 percent to 29.81.
Magnitogorsk trades at 0.3 times its book value, the second-lowest ratio globally after Sydney-based Arrium Ltd., data compiled by Bloomberg show. Shares of Magnitogorsk and competitors OAO Novolipetsk Steel and OAO Severstal have jumped 40 percent or more since a March low following President Vladimir Putin's incursion into Ukraine, which prompted sanctions from the U.S. and the European Union.
Steel Infrastructure
U.S. Secretary of State John Kerry met with Russian Foreign Minister Sergei Lavrov at a conference on Iraq in Paris yesterday. The top diplomats had a "constructive conversation" and discussed holding further talks, Kerry told reporters. Separatists fought Ukrainian troops in locations including Donetsk Airport yesterday in the worst clashes since a cease-fire was signed Sept. 5. The government in Moscow denies involvement in the conflict.
Damage to Ukraine's steelmaking infrastructure will help Russian producers by removing a major source of imports, Donskoy said. Steelmaker DMK Dzerzhinsky, part of the Industrial Union of Donbass, said on Aug. 6 it only has one furnace operating out of three because the railway line for coke-coal delivery is mined with explosives.
"Shipments from Ukraine, which has been historically responsible for more than half of Russian steel imports, have plunged," Donskoy said. Ukraine's steel exports decreased by about 50 percent as of April and continue to shrink, he said.
Ruble Slump
The ruble fell to a record low for a third day yesterday as oil, Russia's main export earner, slid to the lowest level in two years. It has weakened 14 percent against the dollar since the start of the year, the most among 24 emerging-market currencies after Argentina's peso.
Fifteen percent of Magnitogorsk's sales came from the Middle East, 5 percent from Europe and 1 percent each from Africa and Asia, data compiled by Bloomberg show.
Magnitogorsk said last month that second-quarter revenue rose 18 percent from the same period a year earlier to $2.21 billion. Earnings before interest, taxes, depreciation and amortization jumped 36 percent thanks to a recovery in steel prices and a slump in iron ore, which has plunged 37 percent this year.
"The price for iron ore is continuing to decline, and Magnitogorsk is the least-integrated steel producer among peers," which helps it benefit from the price drops, Iryna Trygub-Kainz, an analyst at Raiffeisenbank AG who reiterated her buy recommendation on the stock, said by phone yesterday. "The company has a good chance of improving its Ebitda metrics in the third quarter."
Before it's here, it's on the Bloomberg Terminal.
LEARN MORE