Looking for Job Security? Try Running a Major Sports League
by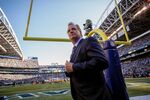 If NFL Commissioner Roger Goodell ends up resigning over the Ray Rice mess, it would make for a rare instance of early turnover in a job like his. Running a sports league is one of the most consistent executive gigs around, particularly when compared to being chief executive officer of a large company.
According to the Conference Board, CEO tenure at America's largest companies is currently about 9.7 years; the figure has hovered between eight years and 10 years since 2000. That's far shorter than the average tenure of commissioners in the big four sports leagues, all of which are well into double digits.
By leaving out a few exceptions—commissioners who assumed the job on an interim basis (upon the sudden death of a previous commissioner) or who died within months of taking office (baseball boss Bartlett Giamatti, for instance)—we can see that Goodell's eight-year run makes him quite youthful. His tenure falls well short of both the overall 15-year average for all sports league heads and the 16.4-year average for NFL chiefs.
 


Even if you were to take the most conservative frame, including every interim and short-term commissioner, the overall sports league average of 12.3 years still significantly exceeds that of corporate CEOs.
And if, like Goodell, you're making $37 million per year—more than even the biggest media executives—its safe to assume you have little interest in walking away.
Before it's here, it's on the Bloomberg Terminal.
LEARN MORE