Revel Draws New Interest After Straub's $90 Million Offer
Michael Bathon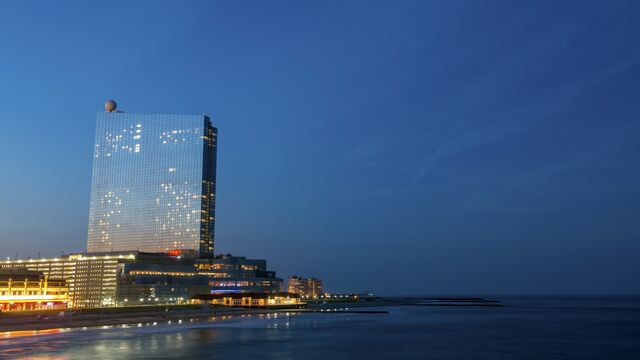 Revel AC Inc., the bankrupt Atlantic City casino operator that closed its resort this month, is attracting new interest from potential buyers, including Los Angeles developer Richard Meruelo.
"This case has basically been a limbo contest, where bidders were hanging out to see how low the Revel will go," John K. Cunningham, a lawyer for the casino, said at a hearing today in Camden, New Jersey. "We were of the belief that the shutdown of Revel could increase bidder interest, and that is exactly what happened," he added
The company, which filed for bankruptcy in June, last week announced a $90 million offer from Florida real estate developer Glenn Straub to kick off bidding at a bankruptcy auction. Straub made a $10 million deposit and set aside as much as $130 million for the Revel auction.
Meruelo made a bid with a $5 million deposit, which the company didn't deem a "qualified bid," according to Cunningham. The developer told the judge he doesn't want his deposit back and will bid for Revel.
If Straub gets Revel, he could "create a renaissance," possibly consolidating with other closed casinos in the New Jersey seaside resort town, his lawyer, Stuart J. Moskovitz, said in an interview today.
Considering Showboat
Straub said in an interview last week that he's considering buying Revel's neighbor, Showboat, as well. Caesars Entertainment Corp., the largest operator of U.S. casinos, shut Showboat in August to reduce capacity in the East Coast gambling hub amid a persistent decline in revenue.
Straub said that he wants to acquire additional land in Atlantic City and promote non-gambling activities such as sports. As part of his plans for Revel, he said he'll drop the name and look for a casino partner to run gambling operations in the property.
Straub could open Revel back up "within a few weeks" after closing, Moskovitz said during the hearing.
Casino revenue in Atlantic City fell more than 40 percent to about $2.8 billion in 2013 from a peak of more than $5 billion in 2006, and a Revel reopening may provide some relief to the city, where five casinos have closed or could close this year.
$2.4 Billion
Revel, built for $2.4 billion, was the first new Atlantic City casino since 2003. Its bankruptcy, the second in its short life, and subsequent closing cost more than 3,000 jobs.
Trump Entertainment Resorts Inc., which operates the Trump Plaza and Taj Mahal casinos, filed for bankruptcy this month. The Plaza is set to close tomorrow and the Taj Mahal could close by mid-November if a buyer isn't found.
Revel received court permission at today's hearing to provide Straub's company with a breakup fee of $3 million if it loses at auction, for setting a floor for other bidders to top.
Meruelo opposed the fee, saying it puts him at a disadvantage and he wanted a "level playing field."
"We've been here for nearly three months and no one else has stepped up," U.S. Bankruptcy Judge Gloria M. Burns said today. The breakup fee "sets the stage to have more bidding," she said.
The judge approved a sale process that will require competing bidders to submit offers by Sept. 23 with the auction the next day and a hearing to approve to the sale set for Sept. 30. Creditors criticized the timeframe. Warren A. Usatine, a lawyer for a committee of unsecured creditors, said it should be extended by at least a week.
The bankruptcy is In re Revel AC Inc., 14-bk-22654, U.S. Bankruptcy Court, District of New Jersey (Camden).
Before it's here, it's on the Bloomberg Terminal.
LEARN MORE