Netflix Built on 'House of Cards' Tested by Europe Shows
Cornelius Rahn and Marie Mawad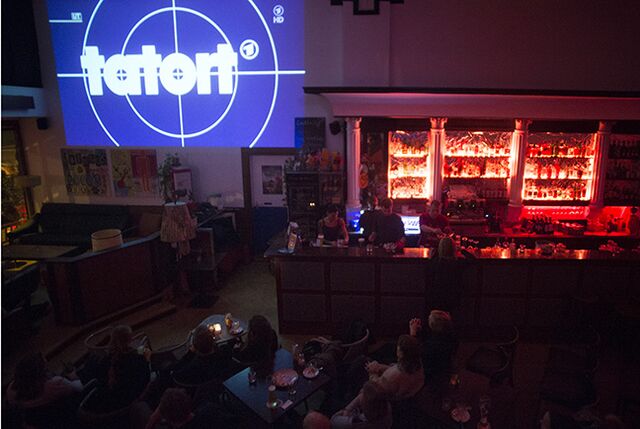 The investigators of the crime series "Tatort" will be unfamiliar to most viewers in the U.S. Not so in Germany, where the decades-old show has a hundred times more pull than "House of Cards." That's a challenge for Netflix Inc. as it pushes deeper into Europe.
In close to 1,000 episodes since 1970, "Tatort" has changed little -- bodies are discovered, people are wrongfully suspected and through dogged investigation a last-ditch arrest is made -- yet the show still regularly draws more than 10 million viewers on Sunday evenings. Netflix is even trying to license the show from public broadcaster ARD, according to two people familiar with the matter, who asked not to be identified because the discussions are confidential.
As Netflix adds six countries this week, the world's largest video-streaming service is getting a glimpse of what it's up against. Polls in Europe's biggest TV markets signal that local content -- often available on free channels during prime time -- consistently beats U.S. blockbusters. While Netflix will have some local shows, the question is whether they're good enough to get people to pay.
"Viewers will search for the shows they know, and if they can't find them, they'll never subscribe," said Gilles Fontaine, an analyst at researcher Digiworld in Montpellier, France.
"House of Cards," the award-winning political thriller that gave Netflix recognition as a video powerhouse, failed to break the one-million mark in Germany and was taken off ProSiebenSat.1 Media AG's main channel Sat.1 last year. The second season averaged less than 100,000 viewers on affiliate channel ProSiebenMAXX.
Marseille Battle
Series such as "Death in Paradise," a Franco-British production about a murder mystery in the Caribbean, and French high-school sitcom "Pep's" topped the most-watched list in France this summer for series broadcast on free TV stations, according to viewership-measurement service Mediametrie. In Germany, Tatort leads series such as legal comedy-drama "Danni Lowinski" and crime drama "Die Chefin" among the most popular shows, according to Quotenmeter.de and Meedia.de.
Netflix is aware of the challenge posed by local taste. It says 20 percent of its titles in France will be French, including the original series "Marseille," a political drama set in the French port city. The show may compete for viewers with "Plus Belle la Vie," a soap opera set in Marseille that's been running for 10 years and hit a record in June as 21 percent of TV watchers tuned in on free channel France 3.
Profit Goal
Reed Hastings, the company's founder and chief executive officer, said yesterday that it'll be making money in Europe within a decade. "It will be challenging," Hastings said in an interview with Bloomberg Television. "But we keep getting content and in the long term, in five or 10 years, we should be profitable."
Hastings is set to attend a launch event in Berlin today. Netflix hasn't announced its own show for German-speaking countries, and spokesman Joris Evers declined to comment on any plans.
Instead, the company acquired rights to local favorites like "Stromberg," a veteran show akin to "The Office," as well as "Der Tatortreiniger," a comedy series about a man who cleans up crime scenes.
A representative for ARD declined to comment on any plans by Netflix to license its content.
Netflix will start at 7.99 euros ($10.30) in France and Germany, similar to its price in other markets. It's also starting service in Austria, Belgium, Luxembourg and Switzerland. Netflix had already been available in the U.K., the Netherlands and Nordic countries.
Free Rivals
While Netflix needs to fight other paid-for services from ProSiebenSat.1, Amazon.com Inc. and Sky Deutschland AG, the biggest challenge may be the free-to-air stations. Such channels, funded with taxes or advertising, account for the vast majority of TV viewership.
"I don't see why I should pay to watch shows when there are plenty of free programs on TV," said Sarah Diehl, a 20-year-old student from Berlin.
Benjamin Weimar, a 32—year-old rickshaw driver in the German capital, said he wouldn't pay more than 5 euros for a streaming service, having ditched Amazon's package last year for lack of content and long loading times.
"As long as they have good shows and the price is right, I'll have a look," Weimar said.
Greenfield Potential
Netflix dropped 4 percent to $457.75 in New York yesterday, while Amazon declined 2.2 percent to $323.89.
ProSiebenSat.1 fell 0.6 percent to 32.94 euros as of 10:45 a.m. in Frankfurt, while Sky Deutschland was little changed at 6.72 euros. Vivendi SA, which operates the Watchever video service in Germany, fell 0.9 percent to 19.17 euros in Paris.
Netflix, based in Los Gatos, California, is drawn to Europe by the region's growth potential. While 8 out of 10 Internet users in France say they watched videos online last month, only 3 percent say they've ever subscribed to a paid video-streaming service, according to Mediametrie.
Netflix has said it aims to generate as much as 80 percent of sales outside the U.S. In the past year, international revenue jumped 85 percent. Still, almost three-quarters of Netflix's 50 million customers are in the U.S.
With its global expansion, Netflix also aims to gain a foothold in foreign markets before U.S. rivals Amazon.com and HBO Go, from Time Warner Inc.
Carrier Deals
In France, Pay-TV channel Canal Plus is the leader in the gradually emerging streaming market. Its Canalplay service, which is distributed through set-top boxes and Web from about 8 euros a month, has reached 520,000 subscribers in three years.
Canalplay this month unveiled an accord with HBO to stream shows including "Game of Thrones," and Germany's Sky Deutschland extended a deal with the U.S. company that lets it air its shows before rivals.
Numericable SA, France's largest cable company, this week unveiled its "LaBox" offer which lets ultra-high-speed Internet clients watch 3,000 episodes of various shows each month at no extra cost.
To help reach European consumers, Netflix has struck some early deals with telecommunications companies. Bouygues Telecom, France's smallest phone operator, said it will offer Netflix through its set-top box. Deutsche Telekom AG will integrate Netflix on its Entertain Web-TV platform and Vodafone Group Plc plans to offer a limited Netflix subscription for free as part of mobile packages, people familiar with the matter said.
Before it's here, it's on the Bloomberg Terminal.
LEARN MORE