Modi Praise in Flooded Muslim Area Helps Election Chances
Unni Krishnan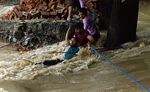 Suhail Maajid and his aging parents spent two nights atop the roof of a three-story building in the Indian region of Kashmir, shuddering each time the swirling floodwaters below shook the structure.
An army boat rescued them after they earlier failed to board an Air Force helicopter because his 70-year-old mother had fainted. Maajid, a spinal surgeon, praised the armed forces and Prime Minister Narendra Modi for bringing his family to safety.
"The prime minister came here immediately, which was the reason for the quick response from the army and air force," Maajid said several days after being rescued. "If given a chance, I will vote for Modi."
Modi's response to the first major natural disaster since he took office in May is helping him make inroads into Jammu and Kashmir, India's only Muslim-majority state, ahead of elections later this year. A strong showing would help ease concerns his Hindu-dominated Bharatiya Janata Party lacks sufficient Muslim support and bring it closer to fulfilling a campaign pledge to roll back special constitutional privileges for the state.
"Modi has got a foot in the door, and it is a great positive opportunity for the central government," said Sandeep Shastri, director at the Centre for Research in Social Sciences and Education at Jain University in Bengaluru, formerly known as Bangalore. "How they build up upon it is the question."
Kashmiri Muslim groups have protested India's military presence in the past, and accused soldiers guarding the border with Pakistan of murder, kidnap and rape. An Indian Air Force helicopter was pelted with stones on Sept. 11, while an army boat was attacked a day later.
Modi Role
Nearly 60 percent of Srinagar, the state capital, was inundated when the Jhelum river breached its banks earlier this month. Modi has taken a leading role in coordinating the government's response to the region's worst flooding in more than half a century, surveying the damage by air and holding meetings to ensure residents receive food, water and shelter.
The swirling waters cut power supply to two-thirds of the city, which is home to 1.2 million people, according to Rohit Kansal, a state government official in charge of all districts. Some 30,000 troops deployed for flood relief rescued 226,000 people, the government said in a statement today. The death toll stood at 200.
In Srinagar last week, the stench of animal carcasses pervaded Gogji Bagh, an upper middle-class neighborhood, as an Indian army boat maneuvered through narrow alleys looking for survivors.
Survival Fight
Among those rescued were Harnam Singh and his wife, who had been trapped for five days on the balcony of their flooded two-story home and hadn't had any food and water for 72 hours before soldiers arrived to help them. He praised Modi for the response while lambasting local authorities.
"Without the army, we would've been in trouble," Singh said after his rescue. "The central government was helpful. The local government has completely failed."
Omar Abdullah, the state's chief minister for the past six years, said in an interview that his administration's initial response was slow as the scale of the disaster was "unprecedented." The pace of the efforts has since accelerated, he said while rejecting assertions that protests against his government would lead to a renewed bout of violence.
"There's a fair amount of anger about our ability to respond and frankly we did as much as we could under the circumstances," Abdullah, 44, said in an interview. "Clearly in such circumstances, people expect much more."
Special Status
Abdullah's National Conference party has governed the state for most of its 67-year history. An alliance with the Congress party ended earlier this year after Modi's BJP took power in national elections.
BJP President Amit Shah urged party leaders last month to focus all efforts on winning a majority in the state elections. In 2008, the Hindu nationalist party won 11 of 87 seats in the state assembly. In general elections in May, the BJP won three of Jammu and Kashmir's six constituencies.
Modi's BJP today suffered a setback at the polls, as opposition parties gained in local elections held in nine states, Press Trust of India reported.
Jammu and Kashmir's special constitutional status allows it to set its own policies apart from defense, foreign affairs and communications. Modi's BJP said in its election manifesto that it wants to scrap the privilege, allow residents outside of Jammu and Kashmir to buy land in the state and secure the return of displaced Hindus.
Muslims constituted about 68 percent of the state's 10 million people, according to the 2001 census, the latest available population data based on religion. About 13 percent of India's population is Muslim, the data show.
Pakistan War
The mountainous region of Kashmir has been the cause of two of the three wars between nuclear-armed neighbors India and Muslim-majority Pakistan since 1947. The province is divided between them and claimed in full by both. About 44,000 people have died in religious and border violence in Kashmir since 1988, where the army has been accused of extra-judicial killings and detentions.
"This is an act that will be appreciated but won't wash away the sins that have been committed here in the past," Happymon Jacob, a professor of political science at Jawaharlal Nehru University in New Delhi, said of Modi's response to the floods. "If they go in and rebuild their roads and houses and say this is just the beginning of what we have to offer, then it can make a real political difference."
Economic Toll
The floods have dealt a blow to the state's economy. Damages to trade, tourism, power, railways and communication systems are estimated as high as 57 billion rupees ($935 million), according to the Associated Chambers of Commerce and Industry of India.
Almost 50 bridges have been washed away and parts of the main highway near Srinagar remain under water. A portion of the Sher-i-Kashmir Institute of Medical Sciences is under water, while the city's main children's hospital remains shut after patients were shifted out after a power failure on Sept. 7.
The Jammu-Srinagar highway was reopened today after the army and Border Roads Organisation cleared debris from a landslide that had washed away 300 meters of road leaving a sheer cliff, the military said in a statement.
Tour operators and house boat owners have shut down businesses for now as the damage has been highest around Dal Lake, the hub of tourism in the city. The area was still under about six feet of water yesterday.
"I'm thinking of my safety right now," Saquib Mir, a tour operator, said as he stood in front of his office near the airport on Sept. 12. "It will take some months for business to get going."
Before it's here, it's on the Bloomberg Terminal.
LEARN MORE