Modi Eases Graft-Linked Curbs to Spur Arms Deals in India
N.C. Bipindra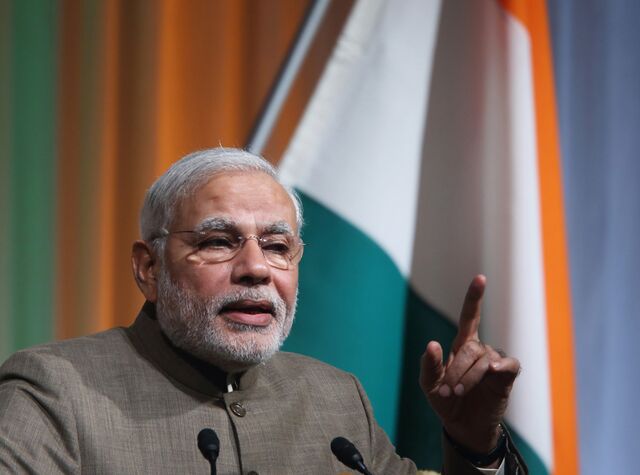 India, the world's largest arms importer, is easing restrictions on procurement from defense manufacturers affected by graft allegations as Prime Minister Narendra Modi strives to bolster the nation's military.
Some purchases from six foreign companies, including Rolls-Royce Holdings Plc and two local businesses that earlier faced curbs are now permitted, according to the Vice Chief of the Indian Air Force R. K. Sharma.
"Decisions will be on a case-to-case basis," Sharma said in an interview in New Delhi on Sept. 5, adding the severity of the allegations would be among the issues considered. "All such firms are under examination."
The shift underscores Modi's push to equip India with the forces needed to protect borders disputed by Pakistan and China and project power in the Indian Ocean. The South Asian nation has allowed higher foreign investment in the defense industry since Modi took office in May, and is said to target the signing of a contract for 126 Rafale fighter jets by year's end.
The five other foreign companies on which curbs are easing are Finmeccanica SpA, Singapore Technologies Kinetics Ltd., Israel Military Industries Ltd., The Corporation Zashchita and Rheinmetall Air Defence AG. The Indian companies are T.S. Kisan & Co. Pvt. Ltd. and R.K. Machine Tools (Ludhiana) Pvt. Ltd.
India's history of corruption scandals in defense contributed to slower decision making under the previous government led by Manmohan Singh.
Military Modernization
Modi has prioritized military modernization. He dedicated the largest indigenously built guided-missile destroyer in August, and vowed to boost defenses so "no one dares to cast an evil glance at India."
"The next logical step in the policy framework is to incorporate these new set of rules in the defense procurement procedure that is under review," said Vinod Kumar Mishra, a former secretary in the defense ministry. "The new DPP is due to come out at the end of this year or early next year."
Sitanshu Kar, a spokesman for the ministry, declined to comment on the easing in procurement rules.
A preliminary inquiry was registered against "unknown officials" of London-based Rolls-Royce in a case relating to alleged bribery of about 188 million rupees ($3.1 million) in the supply of spare parts for helicopter engines, India's Central Bureau of Investigation said on March 21.
The nation put Rolls-Royce contracts on hold, the Press Trust of India reported in March, without citing the source of its information.
Jet Engines
"We're cooperating with the authorities in India," Aparna Srivastava, a Rolls-Royce spokeswoman in New Delhi, said in an e-mail. "We won't tolerate improper conduct of any sort."
India earlier selected Rolls-Royce for repairs and overhauls of engines in six types of aircraft: Hawk Advanced Jet Trainers, C-130J planes, Jaguar fighters, Avro passenger carriers, Embraer Legacy jets and Kiran trainer aircraft.
"The government has directed us to continue to get supplies from Rolls-Royce and so we are getting these supplies," Arup Raha, India's Air Chief Marshal, said in an interview in New Delhi last month.
Modi's administration in August allowed Finmeccanica to continue with existing procurement contracts, while barring it from new defense tenders. The previous government in January scrapped a $753 million deal to buy helicopters from AgustaWestland, a unit of Rome-based Finmeccanica, after a 15-month corruption probe.
Largest Importer
Finmeccanica subsidiaries are involved in projects in India ranging from air surveillance radar and the supply of missiles to the construction of the nation's first 45,000-ton indigenous aircraft carrier.
India surpassed China in 2008-2012 to become the world's largest importer of major conventional weapons, according to the Stockholm International Peace Research Institute. Chinese President Xi Jinping is scheduled to arrive in India tomorrow for his first visit as head of state.
The defense ministry in 2012 barred Singapore Technologies Kinetics, Rheinmetall Air Defence, state-owned Israel Military Industries, The Corporation Zashchita, T.S. Kisan and R.K. Machine Tools (Ludhiana) from business dealings with the Ordnance Factory Board for a period of 10 years.
About two years earlier, the Central Bureau of Investigation had registered a case involving "illegal gratification" from suppliers to ordnance factories, a government statement shows.
The companies can now provide supplies and upgrades on a case-by-case basis, according to Sharma, the vice chief of the Indian Air Force.
Legal Proceedings
Singapore Technologies Kinetics, a unit of Singapore Technologies Engineering Ltd., said in an e-mail that "it will vigorously take appropriate action to clear its name and defend its reputation," adding a petition to quash the debarment order is ongoing in the Delhi High Court.
Rheinmetall Air Defence, a unit of Dusseldorf-based Rheinmetall AG, said the Indian government's allegations are false.
"The company is taking legal steps against the blacklisting of not only RAD but the entire Rheinmetall corporate group from business activities," said Rheinmetall spokesman Oliver Hoffmann.
A person who picked up a telephone call to Moscow-based Corporation Zashchita, and who declined to give a name and title, said she wasn't able to comment on the matter.
Israel's defense ministry, in reference to Israel Military Industries, said it doesn't comment on reports concerning arms exports and military relations.
Claims Rebutted
Jitendra Thapar, a spokesman for T.S Kisan, described the 2010 case against the company as "absurd." Raj Kumar, a spokesman for R.K. Machine Tools (Ludhiana), said all the allegations against the business are "false."
The move to ease restrictions on companies affected by graft allegations is pragmatic as blacklisting firms and canceling contracts set back the armed forces, said Amit Cowshish, a former financial adviser for acquisitions in India's defense ministry.
At the same time, there may be political opposition to the move, especially from the Congress party, he said. Congress lost power in the nation's May general elections.
"There are a large number of firms which have been blacklisted," Defense Minister Arun Jaitley said at a briefing in New Delhi on Aug. 30. "That upholds the consideration of probity. But that narrows our buying options. When it narrows your buying options, it can affect security preparedness."
Before it's here, it's on the Bloomberg Terminal.
LEARN MORE