In Crimea's Local Elections, Pro-Russians Run Strong
By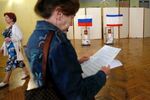 People were queuing for several hours at a polling station in a leafy suburb of Sevastopol on Sunday morning, as residents of Crimea voted for the first time since the Ukrainian peninsula was annexed by Russia in March. The man in charge, Igor Leukhov, told Bloomberg Businessweek that the turnout was pretty remarkable, albeit not as huge as during the referendum on separating from Ukraine, which was hastily organized after the Russian takeover. By 5 p.m., people still had to join a sizable line before getting a chance to vote.
The elections to Crimea's regional parliament and to the city council of Sevastopol, which counts as a separate region, were held on the same day as local elections all around Russia, including Moscow where the turnout was record low this year. After voting in Ukrainian elections for years, people now had to choose between nominees of Russian political parties, although many of them appeared to be members of the old elite who switched allegiance from Ukraine to Russia. The Crimean vote was boycotted by the peninsula's largest ethnic minority, Crimean Tatars, and by some representatives of the middle class and the intelligentsia who remained loyal to Ukraine. According to preliminary results announced on Monday, Russia's ruling party, United Russia, received 74 percent in the Crimean parliament election, while the only other party that managed to get seats in the parliament was the ultra-nationalist LDPR led by Vladimir Zhirinovsky. Results for Sevastopol were not available at the time of writing.
Polling stations in Sevastopol were guarded by members of Crimea's "self-defense" forces—local paramilitaries who assisted the Russian invasion. One of them, Vladimir, the owner of a bayside bar, said the election was "100 percent honest" before carrying on to praise the Russian president. "What Putin has done to Crimea is beyond words. People come here and say it's like going back to the 1980s, the Soviet times."
Vladimir conceded there were many difficult issues that emerged after the Russian takeover—skyrocketing prices, problems with food supplies to the peninsula connected to Russia only by ferry services, and the inexplicable removal of Valery Chaly, a popular leader of the anti-Ukrainian revolt in Sevastopol, from the mayor's post. But he said these were temporary problems along with the sanctions imposed on Russia by the West for invading Ukraine. "They will not manage to destroy us. BRICS are on our side," Vladimir said, referring to the club of strongest emerging economies—Brazil, Russia, India, China, and South Africa.
In the Crimean capital, Simferopol, Vladimir Garnachuk—a Moscow transplant who officially remains a municipal deputy in the Russian capital—now occupies an office in the grand Stalinesque building of the Crimean council of ministers and serves as an adviser to the omnipotent head of the Crimean self-defense forces, Vice Premier Mikhail Sheremet.
"Crimea remains in the state of political innocence. People don't understand the constraints faced by the systemic opposition [nongovernment parties allowed to take part in Russian elections]. There is a lot of enthusiasm, which will lead to a high turnout," Garnachuk said. He went on to claim that Crimea hasn't witnessed the same amount of manipulation and spin-doctoring as other Russian regions and especially Moscow.
His main concern is that the takeover has failed to change the political elite in Crimea, with many Ukrainian-era politicians, including those who represented pro-Western parties collectively known as "orange" after Ukraine's Orange Revolution, simply putting on a Russian hat and continuing business as usual.
"There are loads of people who manage to change their shoes while making a leap. One day they were wearing Ukrainian folk costumes and took part in the orange movement. Now suddenly they are Russian politicians," said Garnachuk.
However, he appeared to be considerably less critical about members of the Party of Regions—Ukraine's former ruling party created by the ousted president Viktor Yanukovych, which controlled the bulk of political offices in Crimea until this spring. They were automatically co-opted into Russia's ruling party, United Russia, without the compulsory six-month period, Garnachuk noted approvingly.
In the central Crimean town of Bakhchysaray, local ethnic Russians also displayed enthusiasm about the election. A police veteran, who introduced himself as Vsevolod, said he was happy that Crimea "came home to Russia" and that he had voted for United Russia because its candidates played an important role in the takeover back in March. Voters at his polling station were greeted by a school brass band playing Soviet-era tunes. A huge granite Lenin was observing the scene from his position in the middle of a yawning Brezhnev-era plaza.
But the turnout in Bakhchysaray at this polling station appeared to be much lower than in Sevastopol. A member of the election commission explained it by the fact that the precinct had an ethnically mixed population, with Crimean Tatars comprising up to half. Bakhchysaray is the historic capital of the Crimean Tatars who ruled the peninsula until it was conquered by Russian Empress Catherine the Great in the 18th century. In 1944, Stalin accused them of collaborating with Nazi Germans and deported the entire people to Central Asia and Siberia. The vast majority of Crimean Tatars currently living in Crimea repatriated after Ukraine became independent and remained staunchly pro-Ukrainian through the past two decades. Crimean Tatars make up at least 12 percent of the peninsula's population.
A few blocks away, an all-female group of about 30 Crimean Tatar teachers were holding a workshop on adapting their classes to the rules imposed by Russians. Asked if any of them voted in the Russian election, they all start shaking their heads in disapproval.
"This new government came to power in a military coup. So why should we go to the polling stations and endorse their dictatorship and the annexation?" said Sultaniye Kharakhady, the oldest teacher in the group, who was one of the first Crimean Tatars to return from exile. She endured 15 years of harassment by the KGB in the 1970s and '80s, when the authorities tried to drive her out of her homeland, she said.
Mejlis, an organization that unites most Crimean Tatars, has called on Crimean Tatars to boycott the elections. The Russian authorities have deported two main leaders of Mejlis, Mustafa Jemilev and Refat Chubarov, to Ukraine. Nariman Dzhelyalov, a deputy head of Mejlis who remains in Crimea, told Businessweek that Crimean Tatar activists are harassed by secret services and self-defense forces, who search their homes and offices trying to drive them out of Crimea. Up to 8,000 Crimean Tatars have already fled to Ukraine, exiled Mejlis leaders claim. Asked about the treatment of the Crimean Tatars, the government official Vladimir Garnachuk claimed that they were influenced by radical Islam and coerced into disobedience by their exiled leaders.
Pro-Ukraine activists, most of whom are ethnic Russians, also come under extreme pressure. Four of them, including film director Oleg Sentsov, are imprisoned in Moscow on terror charges. Others have had to flee. Just a week before the election, a prominent blogger, Elizaveta Bogutskaya, was forced to leave Crimea after dozens of police assaulted her house in the wee hours, injuring her dog with a gunshot—only to question her as a witness, as it later turned out.
Before it's here, it's on the Bloomberg Terminal.
LEARN MORE