Icelandic Retirement Savings Threatened as Bubble Risk Grows
Omar R. Valdimarsson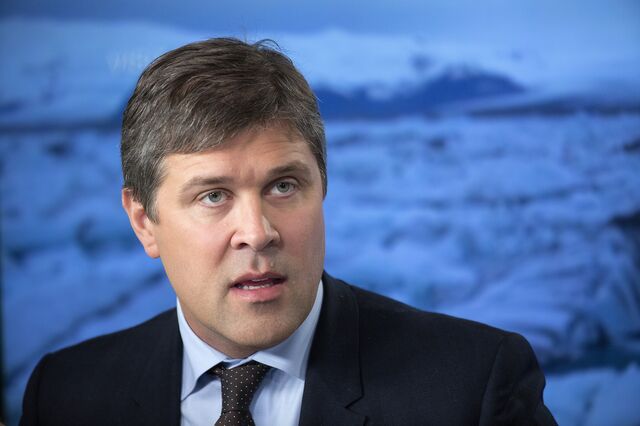 Iceland's 2.7 trillion kronur ($22.7 billion) of pensions are under threat by capital controls that risk generating bubbles in both equity and bond markets, the second-largest manager of retirement money said.
"We're seriously concerned" that controls on the krona, imposed in 2008 to prevent a flight of capital, are risking Iceland's entire pensions system, Asta Rut Jonasdottir, chairman of the Pension Fund of Commerce, said in an interview in Reykjavik on Sept. 11. "We're worried about bubble formation and the work related to the removal needs to be done swiftly. We've waited much, much too long."
Iceland imposed restrictions on its currency after the crash of its three largest banks plunged the nation into the worst recession since World War II. The controls are preventing pension funds from investing abroad and have led to a doubling of the main stock index and pushed the GAMMA index of Icelandic government bonds up almost 70 percent since the end of 2008.
"There's a risk of a bubble, whether or not you're a pension fund or something else, when you're locked inside some sort of a system," said Jonasdottir. "There's a much, much greater risk of a bubble than if the system is open and free. Of course one is considerably worried about this and the limited investment opportunities."
The krona gained 0.05 percent to 153.7 per euro as of 11:31 p.m. in Reykjavik.
Reinvesting Dividend
Iceland's government has recruited economist Anne Krueger together with JPMorgan Chase & Co. to advise a new executive board enlisted to abolish the restrictions. The controls are blocking hedge funds from offloading their part of assets totaling $7.2 billion.
Finance Minister Bjarni Benediktsson said in June that the government will probably force a solution this year if the creditors fail to come with a viable way to wind up the banks which defaulted on $85 billion of debt six years ago.
In an effort to counter the impact of the currency controls, Jonasdottir's fund seeks to reinvest dividend payments paid from foreign securities abroad even though new pension contributions are invested locally. Iceland's 27 pension funds need to invest about $1.7 billion, equal to about 10 percent of the island's gross domestic product, annually through 2022, according to Arion banki hf estimates.
Once the capital controls are removed, there's a risk that the outflow of money and investments will destabilize the krona, forcing up consumer prices and pushing down living standards, according to Jonasdottir. This makes removing the restrictions more difficult for politicians fighting for re-election every four years, she said.
"This is a highly political issue," she said. "I don't think this will succeed unless there's a cross-political solution. I'm not sure it's fair to ask one or two political parties to shoulder the responsibility of abolishing the capital controls. The solution will have to cut through party lines."
Before it's here, it's on the Bloomberg Terminal.
LEARN MORE