How a Facebook Group Persuaded Coca-Cola to Rerelease Surge
By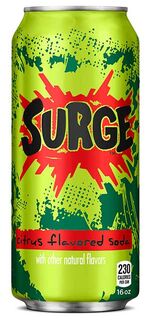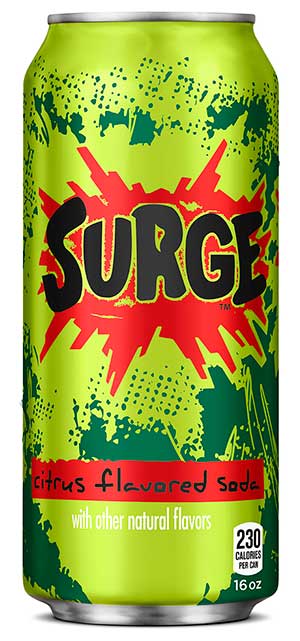 In 1997, the Coca-Cola Co. ran an unusual commercial in which teenagers in baggy pants raced over sofas to snatch a bright green soda that nobody had heard of before. "Surge!" a voiceover exclaimed. "It's a fully loaded citrus soda with carbos! Beat the rush!" Backed with a $50 million marketing campaign that included a Super Bowl commercial, Surge was Coca-Cola's brand new neon green concoction packed with sugar and caffeine. The company released it to compete directly with PepsiCo's Mountain Dew, which at the time accounted for nearly 80 percent of "heavy citrus" sodas and was absolutely crushing Coke's lagging Mello Yello.
Surge was marketed to boys and men between the ages of 12 and 24, and although it captured some of Mountain Dew's sales—by 1999, Dew's dominance had narrowed to roughly 66 percent—it also received a lot of negative publicity because some people believed that high-caffeine drinks shouldn't be sold in school vending machines. (According to an Associated Press article, one can of Surge had 51 mg of caffeine, slightly less than Mountain Dew. A can of Coca-Cola has just 34 mg.) Some school districts banned it, retailers stopped stocking it, and by the year 2000, sales had dropped more than 60 percent. Coca-Cola continued to make Surge for a while, but by 2002 it was all but gone from store shelves.
A year after Surge disappeared, a 25-year-old Pennsylvania Web designer launched a website called savesurge.org. A Facebook group called the Surge Movement was created in 2011; to date it has more than 130,000 likes. Last year, the page's creators crowdfunded $3,800 to post a billboard in Atlanta, half a mile from Coke's headquarters, asking the company to bring it back. "It's so much more than just a soda for many of us," says Evan Carr, the 26-year-old founder of the Surge Movement, "No matter what my friends and I were doing, Surge was around. It was the glue I would say of everything we did."
Surge's original drinkers are now in their late 20s to early 40s. They're part of the demographic that's behind the tidal wave of 1990s nostalgia that's led to the re-airing of old Nickeloden kids shows, the New Kids On The Block/Backstreet Boys supergroup NKOTBSB, and more recently, Lifetime's widely panned Unauthorized Saved By the Bell Story. Soft drink companies are particularly interested in them because they're a significant reason why Americans' consumption of soda has dropped so severely in recent years. According to marketing consultant Martin Lindstrom, the average age of a Coca-Cola drinker is now 56.
On Sept. 15, Coca-Cola announced the return of Surge and even cited the Surge Movement and general 1990s nostalgia in its official press release. "The decision to reinstate Surge was made, in part, based on The Coca-Cola Company's belief in listening to its fans," the company stated. (Coca-Cola executives were not immediately available for further comment.)
For a company as big as Coca-Cola, 130,000 diehards aren't very many. (Coke's main Facebook page has more than 88 million fans.) So instead of spending millions of dollars on a national campaign, Coca-Cola is reaching these nostalgic gen-Xers and millennials in a much more convenient, cost-effective way: over the Internet. Surge is available only on Amazon and—for now anyway—for only a limited time. For $14, people can buy a 12-pack of 16-ounce cans featuring the original design, although shipping and handling raises the cost even more. "Just spent $42 on soda … not even mad," a man named Zach Lutes wrote on Surge Movement's Facebook page. "Now I can try a fresh one and not that decade-old syrup with club soda," gushed Brent Bennett in Oregon.
Currently, Coca-Cola doesn't expect to sell Surge in stores again, but that may change if the drink sells well enough. Within four hours of its debut, Surge's Amazon page announced it was already out of stock.
Before it's here, it's on the Bloomberg Terminal.
LEARN MORE