Hong Kong Plans Yuan Repos to Meet Demand for Shanghai's Stocks
Fion Li and Justina Lee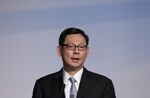 Hong Kong is setting up a 10 billion yuan ($1.6 billion) intra-day repurchase facility and seeking to relax a cap on yuan purchases by the city's residents before local investors gain access to Shanghai's stock market.
Hong Kong Monetary Authority will also announce in coming weeks a list of five to six banks that will act as "primary liquidity providers" for the yuan and have their own access to intra-day and overnight repos, Chief Executive Norman Chan said at a conference in Hong Kong. The Hong Kong-Shanghai Stock Connect program, which is scheduled to start in October, will enable 13 billion yuan to flow north into mainland equities each day and 10.5 billion yuan to head south.
Shanghai stocks tend to trade at a discount to Hong Kong counterparts and HKMA's additional supply of yuan will help alleviate cash squeezes for the currency in Hong Kong if equity flows prove lopsided. Among stocks that are listed in both cities, the Shanghai securities trade at an average discount of 4.3 percent to their Hong Kong counterparts, according to the Hang Seng China AH Premium Index.
"The market consensus is there will be more flows to Shanghai at the beginning, which is going to be a net withdrawal from Hong Kong's yuan liquidity to the onshore market," said Crystal Zhao, a Hong Kong-based analyst at HSBC Holdings Plc. "If you have the intraday repos of 10 billion yuan, it will definitely help smooth intraday money-market volatility."
Hong Kong's yuan interbank offered rate, known as yuan Hibor, for overnight loans between lenders ranged in the past month between 1.5 percent and a one-year high of 4.91 percent. It has averaged 1.63 percent since being introduced in June 2013.
Efficient Payments
Bank of China (Hong Kong) Ltd., the city's yuan clearing bank, may expand the list of collateral it accepts for its intraday repurchase facility for loans in the currency, head of investment Chordio Chan said at today's conference, which was organized by the Treasury Markets Association in Hong Kong. HKMA's Chan said the new 10 billion yuan repo facility will be separate from Bank of China (Hong Kong)'s.
"As the Shanghai-Hong Kong Connect may be implemented soon, the demand for yuan payments and lending could increase, so we think banks need to strengthen their liquidity management," the HKMA chief told reporters after his speech. The purpose of the repo facility is to promote more efficient renminbi payments between banks, he said, using an alternative name for the yuan.
Conversion Limit
Hong Kong's officials have also discussed with the People's Bank of China plans to scrap a 20,000 yuan daily currency-conversion limit that applies to permanent residents, according to HKMA's Chan.
"The PBOC says it doesn't see any problems with removing the quota," he said. "We are seeking to get this arrangement implemented before the start of the Shanghai-Hong Kong Connect."
The conversion cap is a hindrance as Hong Kong faces competition from London and Singapore, which are seeking a greater role in offshore yuan trading. China appointed clearing banks in the U.K. capital, Seoul and Frankfurt this year and assigned Renminbi Qualified Foreign Institutional Investor quotas to places beyond Hong Kong. The allocations allow yuan raised offshore to be used to buy securities in China's domestic market.
China will look at setting up more mutual trading connections with other markets, Xu Hao, deputy director-general of department of fund and intermediary supervision at China Securities Regulatory Commission, said at today's conference. He didn't give further details on what assets and markets may be involved. The government will also keep expanding the RQFII and Qualified Foreign Institutional Investor programs, Xu said.
Before it's here, it's on the Bloomberg Terminal.
LEARN MORE