Cheap Phones From Google and Mozilla Add to Samsung's India Problems
By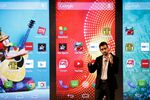 There are 886 million active mobile subscriptions in India, giving the country a cellular penetration rate of 70 percent. However, relatively few Indians use those phones to go online: India has 243 million Internet users, a penetration rate of 19 percent, according to a July report by We Are Social.
About three-quarters of those Internet users rely on their mobile phones to go online, and if Google is right, the gap between mobile subscriptions and Web use should narrow quickly. The company today unveiled new low-cost smartphones for the Indian market to take advantage of a shift to the mobile Internet. "We expect India to be the second-largest Internet market by 2017," Sundar Pichai, Google's senior vice president, said at the announcement in New Delhi, Bloomberg News reports. "And it's happening due to mobile."
Google's Android One phones will likely create even more headaches for executives at Samsung Electronics. The Korean company is no longer India's top mobile phone brand, having fallen behind Micromax. Samsung now has 14.4 percent of the Indian market for all mobile phones (including old-fashioned feature phones), compared with Micromax's 16.6 percent, according to Counterpoint Research.
Looking just at smartphones, Samsung remains the country's top brand for now. But that lead is already shrinking, and the new Android phones will make Samsung's position even shakier. Google, working with Taiwanese chip designer MediaTek and Indian mobile brands Micromax, Karbonn, and Spice, will now be pushing smartphones that cost as little as 6,399 rupees (about $105). Google has already been promoting the Android One's potential to transform lives worldwide: "One will change the way we think. One will start a movement."
To make matters worse for Samsung, Google isn't the only company bringing more competition to India. The Android One phones will be going up against even cheaper new phones from Mozilla, which last month unveiled Firefox smartphones costing as little as 1,999 rupees. "Firefox OS smartphones in the ultra-low-cost category will redefine the entry-level smartphone and create strong momentum in Asia," Mozilla President Li Gong said in a statement last month.
All those cheap phones will take a toll on Samsung sales. The company accounted for 31 percent of smartphone shipments last year, but that share will fall to 25 percent next year, according to a report published by Fitch last month. "The decline will be due largely to rising competition in emerging markets, where lower-priced handset models from local competitors should continue to gain market share" at the expense of both Samsung and Apple. "Competitors' devices retailing at USD100-300 can offer most of the key features of more expensive phones from Samsung and Apple."
Before it's here, it's on the Bloomberg Terminal.
LEARN MORE